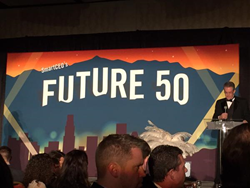 "To be recognized a second year in a row by SmartCEO is such an honor, I owe this to the support of my wife, children and the hard work of the Proove team." - Brian Meshkin, Founder & CEO
ANNAPOLIS JUNCTION, MD & IRVINE, CA (PRWEB) January 26, 2015
Proove Biosciences, a commercial and research leader in Personalized Medicine, is excited to announce that its Chief Executive Officer and founder, Brian Meshkin, has again been awarded SmartCEO's prestigious Future 50 Award in Baltimore, MD. The Future 50 Awards is the largest and most highly anticipated SmartCEO awards program. The program recognizes 50 fast-growth, mid-sized companies in the region. As it states on the SmartCEO webpage, "these companies represent the future of the region's economy and embody the entrepreneurial spirit critical for leadership and success."
Continuing its explanation, SmartCEO states, "Every business dreams of growing — and growing fast. However, at a time when the news is dominated by healthcare debates, housing fallout and economic instability, it can be a feat simply to maintain the status quo. Yet the Future 50 winners profiled here managed to grow their businesses in spite of challenging times. When growth happens quickly, managing the change can be difficult. Strong leaders know when it's time to hire additional staff and restructure business plans. Seasoned CEOs are flexible at a time when it is easy to become overwhelmed.The Future 50 company leaders succeed at making wise decisions that take business to the next level. While it is easy to play it safe, the Future 50 focus on taking risks. All of this year's Future 50 winners have faced down challenges, overcome unforeseeable market shifts and dealt with professional and personal difficulties to lead their teams to incredible achievements. The winners of this year's Future 50 represent the area's fast-growth companies, chosen based on a combined three-year average of revenue and employee growth."
"To be recognized a second year in a row by SmartCEO is such an honor, I owe this to the support of my wife, children and the hard work of the Proove team. Having started the company in the heart of the Great Recession, it's truly amazing to look back and realize we have been very blessed to experience dramatic growth and success", stated Proove Biosciences founder and CEO, Brian Meshkin. "We promise to respect the dignity and recognize the merit of individuality. Many define individual health from the perspective of the average treatment, doctor or patient, assuming that the statistical average predicts the individual outcome. There is no average treatment, doctor, patient or person for that matter. That's why despite innovations, people are less healthy and costs continue to rise. We believe in the power of one – once company, one doctor, one patient – to make a difference. This is the Proove Promise We are on a mission to change the future of personalized medicine.
About Proove Biosciences
Our Mission is to Change the Future of Medicine. Proove is the proof to improve healthcare decisions. We seek to realize a future when clinicians look back and wonder how they could've ever prescribed medications without knowing how a patient would respond. With offices in Southern California and the Baltimore-Washington metropolitan area, the Company is the research leader investigating and publishing data on the genetics of personalized pain medicine with clinical research sites across the United States. Physicians use Proove Biosciences testing to improve outcomes – both safety and efficacy of medical treatment. From a simple cheek swab collected in the office, Proove performs proprietary genetic tests in its CLIA-certified laboratory to identify patients at risk for misuse of prescription pain medications and evaluate their metabolism of medications. For more information, please visit http://www.proove.com or call toll free 855-PROOVE-BIO (855-776-6832).