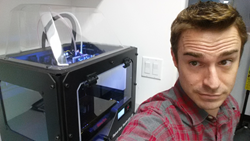 Costa Mesa, California (PRWEB) January 25, 2015
Battery Backup Power, Inc. begin its "Submit A Selfie With a 3D Printer" contest on the morning of Friday, January 23rd, 2015. Participants can submit a selfie with a 3D printer in the picture to the Battery Backup Power, Inc. Facebook page (https://www.facebook.com/batterybackuppower) by February 20th, 2015 to enter for a chance to win one of five 600 VA / 360 Watt line interactive pure sine wave Battery Backup Power, Inc. uninterruptible power supplies.
Selfies with WanHao and MakerBot 3D printers were submitted and shared publically on Facebook within the first hour of the contest. Any 3D printer is eligible, but major brands usually include: Airwolf 3D, EnvisionTEC, FlashForge, Formlabs, Hyrel 3D, M3D, MakerBot Industries, MBot, Mink, MonoPrice, Printrbot, Robo 3D, Solidoodle, Solidscape, Stratasys, TripodMaker, Ultimaker, and WanHao.
For participants that don't own a 3D printer or have access to one for the selfie, Purple Platypus (http://www.purpleplatypus.com) at 17332 Von Karman Ave, Suite 100, Irvine, CA has a show room full of Stratasys models (http://www.stratasys.com).
All participants must include their name, the make of the 3D printer, and the model of the 3D printer in the selfie. Participants that aren't able to post directly to https://www.facebook.com/batterybackuppower, can email the image and details to sales@batterybackuppower.com.
Winners will be contacted via email or Facebook messenger in late February. Full contest rules are posted at http://www.batterybackuppower.com/contests.html.