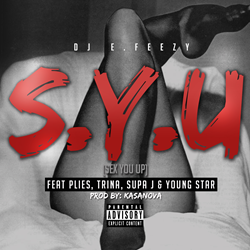 Miami, FL (PRWEB) January 24, 2015
Coast 2 Coast Mixtapes presents the release of the "Sex You Up" single by Dj E-Feezy. This new provocative single is currently available to stream and download on the Coast 2 Coast Mixtapes website. In between spinning on 99 Jamz and at the hottest clubs in Miami, DJ E-Feezy rounds up some of MIA's finest for his raunchy banger "S.Y.U. (Sex You Up)" featuring Plies, Trina, Super J, and Young Star. Over a sample of Color Me Badd's '90s classic "I Wanna Sex You Up," while rapping over Rico Loves producer Kasanovas beats, Plies describes his R-rated plans, while Da Baddest Bitch shows who's the boss.
With all your ingredients laid out on the table, all it takes is a pinch of salt to make your meal taste just right. Dj E-Feezy was just the pinch of salt the game needed. Born in Cleveland, Ohio DJ E-Feezy began DJing at the young age of 12. An instant love affair began to bud between a young kid and his turntables. Like husband and wife, Dj E-Feezy's relationship with his turntables and his radio were inseparable.
Making his radio start at WENZ in Cleveland, Dj E-Feezy ran with his love for radio and never looked back. While long in his stride patience was the key. Still in college Dj E-Feezy knew that in order to increase his survival in this business, he had to decrease his markets. It was a strategy that caused E-Feezy to leave the #16 Market in radio and move to Huntsville, Al (Market 182) to become a weekend mixer at WEUP. After two and a half years at WEUP he decided to make the move from an independent radio station to a more corporate setting at WHRP, a Cumulus Broadcasting company, where he later became a radio personality. Calm in manner it was almost impossible to imagine him as a radio personality,but after he found his niche it was unbelievable the raw energy he possessed. While nonchalant in demeanor , when he cracks a microphone he is full of extraordinary energy and poise. He literally transforms from night to day in a matter of seconds as he does with in his career.
Dj E-Feezy soon took his career to another plateau and started syndicating his radio show in different markets across the country. You could hear him in southern states such as Alabama, Georgia , South Carolina and Florida. This caught the attention of Sirius/XM Radio who contacted him to air his own show nationally on Hip Hop Nation. In the midst of maintaining college,over 5 markets in the south and being nationally syndicated you would think he was on top of the world. Dj E-Feezy felt blessed, but he wanted to add more elements to his career.
After graduating college Dj E-Feezy moved to Memphis, TN to continue his career. This time he elevated from just a weekend mixer in market 182 to a full time radio personality in market 48. After spending a year in Memphis he decided to move to Louisville,KY to take on yet another full time position doing evenings (6pm-10pm) at WGZB. This was a experience of a life time and yet another notch under his belt. Moving from weekends to over nights and being nationally syndicated it would be safe to say it doesn't get any better. But for Dj E-Feezy he never settled and strive for more. While in Louisville,KY Dj E-Feezy took his radio career to another level by mixing for the nationally syndicated Russ Par in the Morning Show broadcasting out of Washington, DC. With Russ Par being syndicated in over 20 radio markets simultaneously in the US, you could hear him in the mornings and in the evenings on terrestrial radio and Sirius/XM radio. This national attention made headlines and spark the interest of the nationally respected crew The Heavy Hitters lead by Hot 97s afternoon jock Dj Enuff. Dj E-Feezy joined the Heavy Hitters and the rest is history in the making.
In 2010 DJ E-Feezy made yet another career move that landed him in sunny Miami, one of the largest radio markets in the country. Now in 2012, two short years later, E-Feezy has become nothing short of a household name. On the weekends E-Feezy can be heard taking over the airwaves on Power 96 while spinning at Mansion 360, Dream, Mokai, Play, Bamboo and Cameo throughout the week. He's also become a part of Lil Wayne's Young Money/Cash Money conglomerate, further proving that the future is unstoppable for this humble young businessman from Ohio.
About Coast 2 Coast Mixtapes
Coast 2 Coast Mixtapes are the most widely distributed mixtapes in the world, with over 100 million downloads/plays generated by over 200 volumes officially hosted by major artists. Coast 2 Coast has a solid reach in the new music industry with a digital magazine, DJ coalition, industry tips blog, yearly convention, and more. Coast 2 Coast Mixtapes represents a unique opportunity for artists of all urban genres, from major to indie. For more information, visit http://www.coast2coastmixtapes.com.