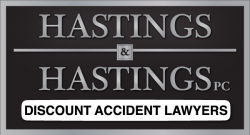 Phoenix, AZ (PRWEB) January 26, 2015
Hastings and Hastings, an Arizona personal injury firm with a reputation that can be trusted announces a record in 2014 for the number of SUV accident legal representation requests by accident victims. With the roads and highways of Arizona becoming increasingly congested in recent years, there has been a reported increase in the overall number of accidents involving SUVs. From SUVs impacting automobiles to SUVs impacting pedestrians and a host of other similar types of accidents, Hastings and Hastings has provided discount car accident attorney assistance throughout the region for well over 30 years. The firm offers comprehensive discount fees so that clients can retain a greater portion of any recovery.
From fractures to road rash and spinal cord injuries as well as brain injuries and injuries involving loss of limbs, Hastings and Hastings has helped countless accident victims over the years recover losses associated with an accident that resulted from someone else's negligence. By incorporating carefully detailed discount attorney's fees, the firm has established its efforts to help clients retain a larger total portion of a recovery. By enabling clients to enjoy a larger portion of a recovery, they are able to better offset mounting medical care expenses, ongoing medical care and the reality of lost wages. The firm has a cumulative total of more than a century and a half of combined legal experience in handling virtually every kind of accident injury.
Considered by many to be one of the most important decisions an accident victim can possibly make, hiring an experienced law firm is an essential and important element of improving the chances of gaining a recovery. Hastings and Hastings has stated on multiple occasions that reputation matters when it comes to representation for victims of accidents that have been injured. Insurance companies understand that Hastings and Hastings is an aggressive firm that delivers a fair negotiation style. With a stellar reputation throughout the community and among clients, Hastings and Hastings is a law firm that earns its reputation one recovery attempt at a time.
Hastings and Hastings is proud of its qualified team of focused personal injury and auto accident attorneys. The firm has multiple offices throughout the greater Phoenix Metro area that each has a group of experienced lawyers who are always standing by and ready to assist accident victims who have been injured because of someone else's errors, mistakes or wrongdoing. Deep discounts, an earned reputation and years of experience all culminate in a Phoenix firm that takes a sincere interest in the wellbeing of its clients. This recent announcement with regard to a record in 2014 for the number of SUV accident legal representation requests by accident victims is additional proof that Hastings and Hastings delivers when it comes to discount fees where legal services are never discounted.
Hastings and Hastings is a leading provider of discount personal injury legal services located in and serving the greater Phoenix Metropolitan area. This respected legal firm specializes in assisting individuals that have been the victim of serious injuries that have resulted from accidents that were not fault of their own. Hastings and Hastings is a trusted group of attorneys that deliver personalized service and guidance for injury victims throughout Phoenix and all across the state of Arizona. Hastings and Hastings is known throughout legal circles as a dedicated team of professionals and a law firm that has been representing accident victims throughout Arizona for decades. Hastings and Hastings has consistently exceeds client's expectations with regard to representing a wide array of accident related injury victims at times when it matters the most and always doing so with discount attorney's Fees.