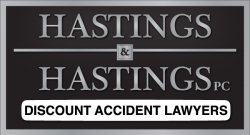 Phoenix, AZ (PRWEB) January 26, 2015
Hastings and Hastings, a focused and professional personal injury legal firm in Arizona announces increased walk-in traffic to many of the firm's 11 convenient office locations in 2014. As a growing number of people throughout the state and across the country experience everything from minor injuries to serious and catastrophic injuries and even loss of life, they are increasingly looking for experienced and dedicated personal injury attorneys that have a trusted reputation. Hastings and Hastings is a firm that has earned its reputation over a period of time spanning more than 30 years by having helped thousands of clients. Those who have been injured through no fault of their own have come to rely upon the professionalism of Hastings and Hastings.
The firm boasts a qualified team of experienced attorneys who focus on personal injury law regarding accidents that happen across the state of Arizona. Providing a genuine positive solution for Arizona accident victims, Hastings and Hastings has earned its reputation one satisfied client at a time. Most importantly, the firm makes a clear guarantee that if there is no recovery that the client is not obligated to pay any attorney's fees. It is an upfront and honest fee structure that has earned the firm an impressive reputation over the years. With Hastings and Hastings each attorney is carefully selected and closely supervised. This ensures a level of quality control not found with other firms in the industry.
Hastings and Hastings has helped countless injury victims that have been involved in a wide variety of accidents over the years. From biking accidents to pedestrian accidents and motorcycle accidents as well as slip and fall related accidents and accidents involving dog bites, Hastings and Hastings is a law firm that has a wide and varied experience base. The firm has clearly stated that it believes a reputation is earned and never given. It is this dedicated attitude to quality service that has allowed the firm to enjoy ongoing referral and word-of-mouth business over the years.
Having earned an impressive reputation throughout the community, within the legal field and among clients, Hastings and Hastings is a firm that is proud to handle a client's recovery attempt with dignity and respect. Saving clients money and never discounting service has been another important factor that has contributed to the favorable reputation that Hastings and Hastings so proudly enjoys. The firm has a century and a half of total combined experience in the industry and offers a no fee promise. This simply means that no fees are due if no recovery is achieved. This recent announcement with regard to increased walk-in traffic to many of the firm's 11 convenient office locations in 2014 is further confirmation that Hastings and Hastings has a reputation that speaks for itself.
Hastings and Hastings is a leading provider of discount personal injury legal services located in and serving the greater Phoenix Metropolitan area. This respected legal firm specializes in assisting individuals that have been the victim of serious injuries that have resulted from accidents that were not fault of their own. Hastings and Hastings is a trusted group of attorneys that deliver personalized service and guidance for injury victims throughout Phoenix and all across the state of Arizona. Hastings and Hastings is known throughout legal circles as a dedicated team of professionals and a law firm that has been representing accident victims throughout Arizona for decades. Hastings and Hastings has consistently exceeded clients' expectations with regard to representing a wide array of accident related injury victims at times when it matters the most and always doing so with discount attorney's fees.