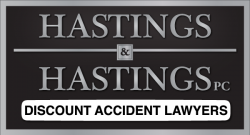 Phoenix, AZ (PRWEB) January 27, 2015
Hastings and Hastings, an accident law firm in Phoenix Arizona with more than 30 years of industry experience announces record demand for workplace accident legal representation in the year ending 2014. With a steady increase in the number of accidents that result in injuries that are occurring in the workplace environment throughout the state, the firm has seen continued demand for legal representation by those who have been injured through no fault of their own. Being unexpectedly injured in the workplace can have serious consequences and can result in ongoing medical costs and debilitating lost wages. Working with an experienced firm can make all the difference in terms of clients being able to recover losses.
Hastings and Hastings is a firm that has worked with accident victims who have experienced injuries resulting from many different types of accidents. These accidents include everything from slip and fall related events to motorcycle collisions and property damage that results in personal injury. In addition, bicycle accidents, pedestrian accidents and dog bite accidents that result in injury all are typically best served by having proper legal representation. Many accidents involve serious and catastrophic injuries while others can even involve a loss of life event. Because accident victims are often overwhelmed by the unexpected injuries that they experience, it is sometimes confusing to choose a law firm.
Hastings and Hastings understands this confusion and helps clients to make a more informed decision. From free initial legal consultations to offering to meet with clients in the hospital or at home, Hastings and Hastings is a law firm that has established itself as a reliable and dependable source for personal injury legal representation in Arizona. The firm has more than 10 well-established offices in the greater Phoenix metropolitan area. This simply means that clients have easy access to representation when they need it the most. Those who have been involved in some type of accident anywhere in the state of Arizona have come to rely upon and trust the professionalism of Hastings and Hastings.
The firm offers free consultations with a qualified attorney. While some firms in the industry offer consultations that are initially scheduled with a salesperson or a paralegal, Hastings and Hastings makes it clear from the very beginning that clients work directly with a qualified and experienced attorney. This provides for a greater amount of confidence when choosing to pursue a recovery. With a no fee promise and genuine discounts, Hastings and Hastings has earned its excellent reputation year after year. This recent announcement with regard to record demand for workplace accident legal representation in the year ending 2014 is additional proof that Hastings and Hastings is a law firm in Arizona with a reputation that has earned the firm the respect and accolades of the community.
Hastings and Hastings is a leading provider of discount personal injury legal services located in and serving the greater Phoenix Metropolitan area. This respected legal firm specializes in assisting individuals that have been the victim of serious injuries that have resulted from accidents that were not fault of their own. Hastings and Hastings is a trusted group of attorneys that deliver personalized service and guidance for injury victims throughout Phoenix and all across the state of Arizona. Hastings and Hastings is known throughout legal circles as a dedicated team of professionals and a law firm that has been representing accident victims throughout Arizona for decades. Hastings and Hastings has consistently exceeds client's expectations with regard to representing a wide array of accident related injury victims at times when it matters the most and always doing so with discount attorney's Fees.