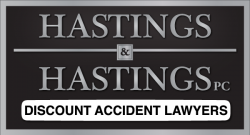 Phoenix, AZ (PRWEB) January 28, 2015
Hastings and Hastings, a trusted name in Phoenix Arizona personal injury law announces 2014 record demand for accident victim serious injury legal representation in Phoenix. The firm has continued to maintain a trusted reputation with clients, throughout the legal field and across the community. With a level of dedication and focus that is second to none, Hastings and Hastings is a law firm in Arizona that enjoys ongoing word-of-mouth and referral business year after year. Saving clients money while providing focused legal representation is what the firm has done successfully for more than three decades. Those who have been injured because of the negligence of a company or another individual have trusted and relied upon Hastings and Hastings during difficult times.
Assisting clients who have been injured in a wide variety of accidents, Hastings and Hastings saves clients money on a successful recovery every time. It is through a carefully organized discount fee structure that the firm is able to accomplish this goal. Most importantly, clients can expect attorney's fees to stay the same regardless of whether a case requires full litigation or is settled through negotiations. Existing and former clients offer countless referrals because of the Hastings and Hastings impressive reputation. It is a reputation that has been earned one client at a time. Another important aspect of the Hastings and Hastings difference is that the firm makes something available that it refers to as a no fee promise.
The no fee promise implies that if there is no successful recovery that injury victims are never required to pay any attorney's fees. In addition, the firm takes its aggressive discount fee schedule a step further and promises that if a recovery is not successful that there will never be any costs associated with establishing a recovery effort. This is an important and key aspect of the Hastings and Hastings difference because it simply means that clients will not be burdened any further financially if they are unable to achieve a recovery.
The company has built and maintained an outstanding reputation over its more than 30 years of dedicated service. Handling a wide range of accidents including everything from wrongful death to loss of limb and paralysis as well as road rash and fractures, Hastings and Hastings has achieved consistent results for clients that genuinely need help. Most importantly, Hastings and Hastings offers completely free initial consultations as a way to help clients make a more informed decision. This combined with having nearly a dozen convenient office locations throughout Arizona makes Hastings and Hastings a trusted firm in Arizona. This recent announcement with regard to 2014 record demand for accident victim serious injury legal representation in Phoenix is additional confirmation that Hastings and Hastings is a firm with a favorable reputation in Arizona.
Hastings and Hastings is a leading provider of discount personal injury legal services located in and serving the greater Phoenix Metropolitan area. This respected legal firm specializes in assisting individuals that have been the victim of serious injuries that have resulted from accidents that were not fault of their own. Hastings and Hastings is a trusted group of attorneys that deliver personalized service and guidance for injury victims throughout Phoenix and all across the state of Arizona. Hastings and Hastings is known throughout legal circles as a dedicated team of professionals and a law firm that has been representing accident victims throughout Arizona for decades. Hastings and Hastings has consistently exceeded clients' expectations with regard to representing a wide array of accident related injury victims at times when it matters the most and always doing so with discount attorney's fees.