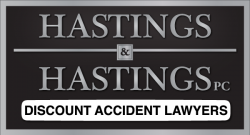 Phoenix, AZ (PRWEB) January 29, 2015
Hastings and Hastings, an Arizona personal injury lawyer with over 150 years of combined legal experience in handling a wide array of accident injuries, announces record consultation requests in the year ending 2014 by injury victims for accidents caused by faulty products. Many companies and corporations over the years have designed and manufactured products that end up causing serious injuries and even loss of life. When this happens, working with an experienced and dedicated personal injury attorney can make a big difference for clients wishing to recover losses. Hastings and Hastings is a firm with 11 convenient firm locations throughout the greater Phoenix metropolitan area that has helped thousands of injury victims over the years.
The firm offers free consultations with an actual attorney and not the usual paralegal or company salesperson. This is an important consideration because working directly with an attorney from the very start can make a big difference in the overall outcome of any recovery attempt. The firm offers discounted fees that ultimately save clients money every time a recovery is successful. This is a major consideration for those who have accumulated medical expenses and who have lost wages because they have been unable to work. The firm handles everything from injuries caused by motorcycle accidents to bicycle accidents and pedestrian accidents as well as SUV accidents and trucking accidents.
Hastings and Hastings is known for its straightforward, honest and upfront fee structure. Ensuring a simple and easy to understand fee schedule means that clients can enjoy greater peace of mind. Knowing in advance exactly what the fees are and knowing that those fees will not change can make a big difference in how clients approach any recovery attempt. Unlike other firms that change fees over time, Hastings and Hastings maintains one fee from the very outset. Whether a case requires litigation or not, clients enjoy the same fee from start to finish with this trusted Phoenix Arizona firm. Hastings and Hastings also makes available something known as a no-fee promise. This simply means that if there is no recovery, there are never any fees due.
This offers additional peace of mind for clients in knowing that they will not be overburdened with legal fees if a recovery is not achieved. Those who have experienced some type of catastrophic accident that has resulted in serious injuries often have overwhelming medical expenses and ongoing lost employment wages. Knowing in advance that there will be no more additional expenses if, for some reason, a recovery is not achieved, offers genuine peace of mind. This recent announcement with regard to record consultation requests in the year ending 2014 by injury victims for accidents caused by faulty products is yet one more indicator that Hastings and Hastings is a firm that backs up its promise of providing genuine discount fees while never discounting service.
Hastings and Hastings is a leading provider of discount personal injury legal services located in and serving the greater Phoenix Metropolitan area. This respected legal firm specializes in assisting individuals that have been the victim of serious injuries that have resulted from accidents that were no fault of their own. Hastings and Hastings is a trusted group of attorneys that delivers personalized service and guidance for injury victims throughout Phoenix and all across the state of Arizona. Hastings and Hastings is known throughout legal circles as a dedicated team of professionals and a law firm that has been representing accident victims throughout Arizona for decades. Hastings and Hastings has consistently exceeded clients' expectations with regard to representing a wide array of accident related injury victims at times when it mattered the most and always doing so with discount attorney's Fees.