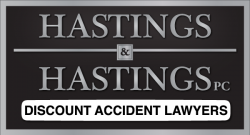 Phoenix, AZ (PRWEB) January 29, 2015
Hastings and Hastings, a discount accident attorney in Phoenix Arizona announces 2014 record demand for legal representation regarding bicycle accidents involving children. A growing number of accidents are occurring across the country and throughout the state of Arizona with regard to children on bicycles. Many of these accidents involve children riding defective bicycles while other accidents involve motorists impacting children riding a bike in intersections and other areas. The firm has helped many parents who have had children injured in bicycle accidents to recover losses. With more than 30 years of dedicated experience in the Phoenix Arizona area, Hastings and Hastings is a discount lawyer that focuses on personalized service.
Discount attorney fees are important because they equate to more money for clients. Those who have experienced fractures, road rash, brain injuries, spinal cord injuries and disfigurement as well as permanent disability have learned that Hastings and Hastings is a firm that delivers on promises. Genuine discount fees simply mean that fees do not change and that fees are well below what other firms will likely charge. Most importantly, Hastings and Hastings guarantees that fees do not change regardless of the level of involvement in attempting to achieve a recovery. This is important because other firms sometimes modify fees as a recovery attempt progresses.
From dog bite accidents to motorcycle accidents and automobile accidents as well as accidents involving impacts with big trucks on the highway, Hastings and Hastings is an accident injury law firm that has represented thousands of injury victims over the years. Regardless of the severity of the accident or the severity of the injuries, Hastings and Hastings is always standing by and ready to assist those who have been injured due to the negligence of another individual or a company. Other common injuries include burns, loss of limbs and even loss of life.
Hastings and Hastings offers clients 11 office locations throughout the greater Phoenix metropolitan area. This simply means that regardless of where a client lives in the Valley they have easy and convenient access to one of the firm's offices. The firm has also arranged on many occasions to come to a client who is unable to travel. Those who are confined to a hospital bed or to a home environment because of serious injuries can enjoy the same focused legal representation by simply contacting Hastings and Hastings. This recent announcement with regard to 2014 record demand for legal representation regarding bicycle accidents involving children is just one more key indicator that Hastings and Hastings is a firm that has established a favorable reputation throughout the Phoenix community for many years.
Hastings and Hastings is a leading provider of discount personal injury legal services located in and serving the greater Phoenix Metropolitan area. This respected legal firm specializes in assisting individuals that have been the victim of serious injuries that have resulted from accidents that were not fault of their own. Hastings and Hastings is a trusted group of attorneys that deliver personalized service and guidance for injury victims throughout Phoenix and all across the state of Arizona. Hastings and Hastings is known throughout legal circles as a dedicated team of professionals and a law firm that has been representing accident victims throughout Arizona for decades. Hastings and Hastings has consistently exceeded clients expectations with regard to representing a wide array of accident related injury victims at times when it matters the most and always doing so with discount attorney's fees.