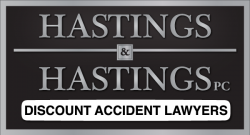 Phoenix, AZ (PRWEB) January 30, 2015
Hastings and Hastings, a Phoenix Arizona personal injury legal firm with more than 30 years of experience announces record demand in 2014 for personal injury lawyer assistance. Phoenix has seen a general and overall increase in accidents and incidents throughout the region that have resulted in injuries and loss of life. As such, Hastings and Hastings has experienced a steady increase in the demand for personal injury legal representation. The firm offers a qualified team of experienced personal injury attorneys located throughout Arizona in 11 office locations. The firm understands that hiring a lawyer with regard to a personal injury accident can sometimes be overwhelming for victims. That is why the firm takes a personalized and focused approach to personal injury law.
The firm has been representing victims of accidents who were injured through no fault of their own for more than three decades. Offering a positive solution for car accident victims, motorcycle accident victims, bicycle accident victims and slip and fall accident victims as well as a host of other types of accidents, the firm has earned a reputation for focused representation one client at a time. The firm has stated on multiple occasions that a reputation is not given - it is earned. The firm has stood behind its commitment to this simple concept and has provided personalized service to those who have been injured due to the negligence of an individual or a corporation. Building and maintaining a trusted reputation with the community, with clients and throughout the legal field is what the firm has done year after year.
Hastings and Hastings has experienced a large number of referrals over the years thanks to its focus, dedication and hard work. Referrals from existing and former clients offer a clear insight into the level of professionalism offered by Hastings and Hastings. Each case is handled with respect and dignity and each client is treated as a unique individual. Saving clients money, providing dedicated and focused personal injury representation and helping clients recover losses is what the firm has been doing for many years in Arizona.
The firm offers discount fees and never discount service. This is combined with the fact that Hastings and Hastings provides completely free consultations and even offers to travel to a client that is unable to leave home or a hospital bed. It is this level of dedication that has earned the firm its impressive reputation. Accident victims throughout Arizona have come to rely upon and trust the Hastings and Hastings name. This recent announcement with regard to a record demand in 2014 for personal injury lawyer assistance is just one more bit of evidence that Hastings and Hastings stands behind its promises and delivers on those promises.
Hastings and Hastings is a leading provider of discount personal injury legal services located in and serving the greater Phoenix Metropolitan area. This respected legal firm specializes in assisting individuals that have been the victim of serious injuries that have resulted from accidents that were not fault of their own. Hastings and Hastings is a trusted group of attorneys that deliver personalized service and guidance for injury victims throughout Phoenix and all across the state of Arizona. Hastings and Hastings is known throughout legal circles as a dedicated team of professionals and a law firm that has been representing accident victims throughout Arizona for decades. Hastings and Hastings has consistently exceeded clients' expectations with regard to representing a wide array of accident related injury victims at times when it matters the most and always doing so with discount attorney's fees.