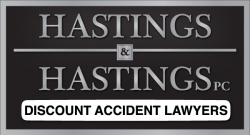 Phoenix, AZ (PRWEB) January 30, 2015
Hastings and Hastings, a law firm in Arizona that focuses on personal injury, announces a record number of telephone inquiries in the year ending 2014 by accident victims in Phoenix. With ever increasing congested roads throughout Arizona and across the country, there are a growing number of accidents that are occurring each and every day. This has resulted in a large number of accident victims seeking to recover losses associated with injuries and lost work. Hastings and Hastings is a firm with more than 150 years of total combined legal experience. The firm has stated on more than one occasion that it has earned its reputation one client at a time. The firm enjoys an impressive reputation in the community as is indicated by its large amount of referral and word-of-mouth business.
Most importantly, the firm makes a clear, decisive and easy to understand no-fee-promise for those who have been injured due to the negligence of someone else. The no-fee-promise states in no uncertain terms that if there is no recovery that there are no fees assessed. While other accident firms sometimes claim that they offer discounted fees, Hastings and Hastings stands behind its promise of providing clients with clear and easy to understand discount fees intended to allow clients to retain a greater portion of a deserved recovery. When clients have access to greater financial resources, they are then better able to address lost employment wages and overwhelming medical care costs. Saving clients money and providing discounted fees while at the same time never discounting service is what the firm has become known for over the years.
Helping clients with everything from motorcycle accidents to dog bite related accidents and slip and fall accidents as well as workplace accidents and accidents that occur involving pedestrians, Hastings and Hastings is a firm that is focused and dedicated and one that offers personalized service for each and every client. With multiple offices throughout the greater Phoenix metropolitan area, Hastings and Hastings is a law firm that makes it easy and convenient for clients to gain access to the legal representation that they require when they have been injured because of someone else's negligence.
Another important aspect of the Hastings and Hastings difference is that the firm offers positive solutions for accident victims on a daily basis. The firm carefully handpicks each attorney and closely monitors each recovery attempt to ensure the highest in quality control. This gives clients greater peace of mind knowing that they are working with a dedicated and focused law firm. This recent announcement with regard to a record number of telephone inquiries in the year ending 2014 by accident victims in Phoenix is added proof that Hastings and Hastings is a professional personal injury law firm that has established itself as a trusted and respected name in legal representation throughout Arizona.
Hastings and Hastings is a leading provider of discount personal injury legal services located in and serving the greater Phoenix Metropolitan area. This respected legal firm specializes in assisting individuals that have been the victim of serious injuries that have resulted from accidents that were not fault of their own. Hastings and Hastings is a trusted group of attorneys that deliver personalized service and guidance for injury victims throughout Phoenix and all across the state of Arizona. Hastings and Hastings is known throughout legal circles as a dedicated team of professionals and a law firm that has been representing accident victims throughout Arizona for decades. Hastings and Hastings has consistently exceeded clients' expectations with regard to representing a wide array of accident related injury victims at times when it matters the most and always doing so with discount attorney's Fees.