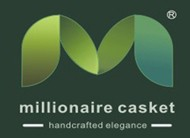 (PRWEB) January 25, 2015
MillionaireCasket.com hopes to be a one-stop funeral supplier. Recently, the company has released 15 new solid wood caskets to its product catalog. The wood caskets consist of over 30 designs, including solid poplar wood caskets, solid oak wood caskets, etc..
The company has invested much money in the technology which enables them to serve new markets and meet the international demand for all kinds of caskets. All of these caskets are offered in a variety of thickness and weight; OEM orders are welcomed here.
MillionaireCasket.com strives to give customers enough confidence. The CEO of the company indicates that all their products have gone through the verification process. Moreover, the business has announced a wood casket promotion. Now, any wood casket order comes with a discount, up to 30% off, before Mar. 31, 2015.
MillionaireCasket.com offers a great selection of the highest-quality caskets, embalming tables, church trucks, stretchers, church furniture, keepsakes and more. Its customers are throughout the U.S. and North America.
About MillionaireCasket.com
Millionaire Casket is a leading China casket manufacturer; the company has been providing all kinds of metal caskets and wood caskets for many years, with a business focus on casket wholesale. This company is providing an exquisitely crafted line of all kinds of metal caskets, solid wood caskets, veneer caskets, cremation caskets, and more. The standard quality control policy is strictly applied here, and a third party quality assurance is also available.
Please visit http://www.millionairecasket.com/ for more details.