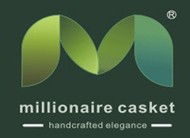 (PRWEB) January 25, 2015
Today, MillionaireCasket.com, a leading casket company, adds some new metal caskets to its product line. All the new items are 100% produced with the high-quality craftsmanship and materials, and they are available at very affordable prices, up to 30% off.
MillionaireCasket.com hopes to provide customer more choices with fast delivery, and explore its market share as well. Its top experts are making every effort to provide worldwide consumers with wonderful caskets. Moreover, its new metal caskets are inexpensive. Customers can find the new metal caskets on the company's website. All clients can enjoy a convenient and secure buying process.
"We offer high quality products only. We have our own manufacturing facility loaded with advanced machinery. We have a team of skilled craftsmen. Every product is acutely checked. All our products are at affordable prices. More high quality funeral products will be added to our product category in the coming months." The company's CEO says.
MillionaireCasket.com is also offering other great caskets. The company intends to make online shopping more convenient for every distributor.
About MillionaireCasket.com
MillionaireCasket.com is a leading casket company that focuses on the business of casket wholesale. This company offers an exquisitely crafted line of all kinds of metal caskets, solid wood caskets, veneer caskets, cremation caskets, rental caskets, orthodox caskets, infant or over-sized caskets and European style coffins. The standard quality control policy is strictly applied here, and a third party quality assurance is also available. More information about the company and its quality products can be found at http://www.millionairecasket.com/