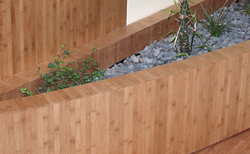 (PRWEB) January 26, 2015
BambooFlooringChina.com is a well-known eco-friendly bamboo flooring factory and wholesaler. Recently, the company has introduced its exotic bamboo veneer sheets for global customers and won many positive comments on these models.
The company's CEO is proud of their patented vertical lamination process they use to produce their bamboo flooring and other outdoor bamboo products. Along with high quality bamboo flooring products, the business offers its clients top quality products, as well as unmatched client service. It welcomes OEM orders with all specifications.
"I would like to thank you for absolutely fantastic customer service. If only all companies were as easy to deal with, without sacrificing quality, as you. Over the last few months we were doing a total refurbishment of our new house, and you were one of the most reliable, responsive and helpful companies we dealt with. I would like to thank you for all of your efforts," a happy customer says.
BambooFlooringChina.com has been devoted to supplying the distributors with the best quality, environmentally responsible, luxury bamboo products on the market. It has announced a site-wide bamboo flooring promotion. Now, all its bamboo flooring products are available at discounted prices, up to 35 percent off.
About BambooFlooringChina.com
BambooFlooringChina.com has been making high quality bamboo products for many years. It is selling a huge selection of elegant items for the international customers: strand woven floorings, lumbers, outdoor deckings, plywoods, fences and so on. The company always strives to benefit all its old and new clients; its top designers are working hard to make more durable items.
More information about BambooFlooringChina.com and its bamboo flooring products can be found at http://www.bambooflooringchina.com/products/bamboo-veneer.html