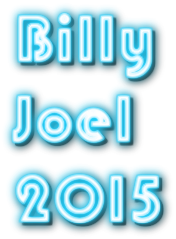 Chicago, IL (PRWEB) January 24, 2015
Ticket Down is a reputable source for authentic Billy Joel tickets at Wrigley Field. The Piano Man, Billy Joel, is still wowing fans around the world with live concerts. Joel has added a stop at Wrigley Field in Chicago on August 27th to his 2015 headlining tour.
One of the most respected artists in the history of rock and roll music is the piano man, Billy Joel. Joel hasn't released a musical album since 1993 (released Fantasies & Delusions in 2001, an album of classical compositions), but tickets to his concerts are one of the most sought after in the business. Joel has been performing in many large cities during 2014 and 2015 and last year he joined with Madison Square Garden for a residency and will be venturing off to Chicago in August to visit the historical Wrigley Field. Joel headlined at Wrigley in 2014, however, diehard fans begged him to come back in 2015.
Joel burst onto the music scene in 1973 with "Piano Man," which is his most popular and beloved song. Joel, the native of the Bronx in New York City, has gone on to have several other hits, but his debut single is still a karaoke favorite 30 years later. Among his other classic songs that fans looking to attend his show at Wrigley Field will want to hear include "Just the Way You Are," "It's Still Rock and Roll to Me," "Uptown Girl," "We Didn't Start the Fire," "Tell her About It," and "The River of Dreams." Over the years, these songs have all been at the top of the music charts in the United States.
Joel's long and established career has led him to become the sixth best-selling recording artist in the United States and the third-best solo artist. He has one of the greatest album releases in the history of music. In 1985, he released Greatest Hits – Volume I & Volume II, which was certified platinum by the Recording Industry Association of America 23 times. His 1977 release, The Stranger, was certified platinum by the RIAA 10 times.
Wrigley Field is one of the most loved baseball stadiums in the United States and while they haven't seen much success on the diamond, they have seen numerous musical acts perform there. In 2013, Pearl Jam became the show that sold out the fastest in the history of the venue. Other artists that have played here include Jimmy Buffet, who was the first musician to play a concert at the ballpark, The Police, Paul McCartney, Dave Mathews Band, Bruce Springsteen, Jason Aldean, Brad Paisley and Elton John, who headlined two shows with Joel in 2009.
Fans from around the country will likely visit Wrigley Field in Chicago, Illinois for this rare chance to see one of the pioneers of rock and roll perform live. In his career, Joel has sold more than 150 million records around the world. His current record catalog includes 13 studio releases, five live records, 15 compilations, 62 singles and 10 video albums.
Shows have been selling out quickly during his residency at MSG and this could be an indication of how quickly the tickets will go for Joel's show at Wrigley Field. Ticket Down is offering their exclusive customer appreciation discount code BILLYJOEL for special savings on Billy Joel Wrigley Field Tickets.