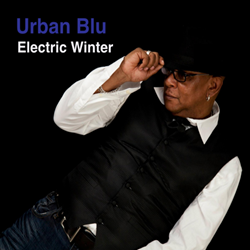 The rejuvenation of my music and newfound success rising to #1 is a pure blessing and I look forward to what 2015 will bring.
(PRWEB) January 26, 2015
The Jazz Network Worldwide is proud to support Urban Blu's expertise as an accomplished producer, composer and multi-instrumentalist creating a non-traditional approach to jazz compositions as he climbs the Reverberation charts with his current single digital release of "Electric Winter".
"After closely listening to "Electric Winter" I heard different conversations, cohesively gathered with different musical flavors comprised of Miles Davis-type trumpet riffs, against funk/jazz foundations showered with some rock guitar, laid into the maze of musical flavors. I sensed emotional stories, all wrapped in one thrust, showing changes that brings the listener to different realms of thought. Sounds like a perfect song for a motion picture," says Jaijai Jackson, creator of The Jazz Network Worldwide.
Urban Blu comes from one of the most music rich southern cities, Macon, Georgia. Over decades, Macon has produced several known musical artists, i.e. James Brown, The Allman Brothers Band, Little Richard, Sea Level, and Otis Redding to name a few. Blu demonstrated his musical spirit and God-given talent at a very early age, with his first instrument being the Clarinet, then moved onto the saxophone where his improvisation skills began to develop. It was when he discovered the drums that he accepted his fate and focused on being a drummer. By the time he entered the 12th grade he was one of the youngest, most sought after professional drummers around Macon. This positioned him to gain valuable knowledge from seasoned musicians with several local bands like the ""Reddings" and "Shabazz".
Later in his career, he established his own recording company in Atlanta and formed his own band 'Urban Blu'. Not long after their first album "Out Of The Blu" was released, they were catapulted as the best local band in that region. This positioning created opportunities to share stages with national artists like Najee, Herbie Hancock, TS Monk, Eric Benet, Cassandra Wilson, Tuck & Patti, Steve Turre & Sanctified Shells, Regina Carter, Claudia Villella, Cyrus Chestnut, Papo Vazquez, David S. Ware, Amel, Dr. Billy Taylor, Soul To Soul, and Gonzalo Rubalcaba.
The start of 2015 began on a high note for Urban Blu, for "Electric Winter" rapidly rocketed up the Reverbnation local jazz charts to #1 and continues to make leaps and bound across national, global, and "all genres" category charts. Reverbnation is interested in submitting his music for major motion picture productions and online gaming opportunities.
There's a tremendous music buzz lurking over the social media communities that includes FaceBook, Twitter, Instagram, SnapChat and major online Digital Music Distribution sites like Itunes and CDBaby. There's no wonder that the foundation of his website (http://urbanblumusic.ning.com/) a social network itself, is the perfect platform for his fans to become viral marketers supporting the growth of his musical expertise and upcoming releases. Urban Blu contributes a portion of each download of "Electric Winter" to the Love Hope Strength Foundation (LHS) which is the world's leading rock-and-roll cancer foundation dedicated to saving lives, one concert at a time. (http://www.lovehopestrength.org)
Be sure to come by The Jazz Network Worldwide (http://www.thejazznetworkworldwide.com) and check out his feature as well as visiting his website at http://urbanblumusic.ning.com/ to learn more, purchase "Electric Winter" and to join his social network.
On Twitter:https://twitter.com/urbandez
On Facebook: https://www.facebook.com/urbandez?fref=ts
On Reverbnation: http://www.reverbnation.com/urbanblu