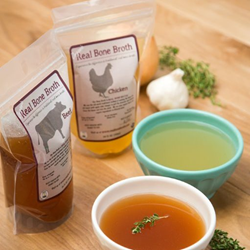 Real bone broth is making a deserved comeback
Sherbrooke, Quebec (PRWEB) January 25, 2015
Anyone watching the Paleo and Primal diet community in the US would expect them to be struggling. Recent news stories portrayed this popular diet poorly and strongly criticized its founding principles. Searches for the diet hit a low on Google that they haven't seen since May 2012. But sometimes numbers can be deceiving. This community is no stranger to criticism – the anthropological validity of many of the diet's food choices has been questioned by sociologists and anthropologists for years – but its followers are committed, and many have experienced demonstrable improvement in their health.
As Chris Kresser, an integrative medicine practitioner with a thriving practice and a love for Paleo living reminds his readers, in controlled studies, the Paleo diet leads to better overall health and is more effective than the popular Mediterranean and Nordic diets. Chris reminds his readers that studies should weigh more than hearsay and speculation in diet choice – especially when some diets that receive more praise than the Paleo diet are loaded with chemicals or require their adherents to follow strict calorie or macronutrient counts. The Paleo diet also places an emphasis on healthy fat choices and the use of organic or 'beyond organic' food sources.
As recent events on Mark's Daily Apple - a blog with followers numbering in the millions and a companion Facebook page following of 168,031 – show, the Paleo and Primal community is committed to their lifestyle and not fazed by the negative media attention. For 21 days, this popular blog is showcasing at least one different Paleo and Primal-friendly brands on their site. Some days, the blog will feature more than one brand. More importantly, however, the 21 Day Challenge initiative is educating consumers as to the benefits of the Paleo/Primal lifestyle.
Today, Wise Choice Market and Paleo Scavenger Granola are featured on Mark's Daily Apple. Wise Choice Market's participation includes a giveaway of the company's bone broth, a popular item in the Paleo community that Mark's Daily Apple describes as "Slow-simmered under the direction of a professional chef, this delicious, organic, home-style bone broth is prepared with nutrient-dense ingredients and ready when you need it. As close to homemade broth as you'll get without hours of labor, they hand craft their organic chicken and beef bone broths in small batches." The company's fermented vegetables are also mentioned.
This brand showcase is not an attempt to get customers to buy from Primal and Paleo providers. The 21 Day Primal Blueprint Challenge is part of a larger diet initiative created by the Mark's Daily Apply blog founder, Mark Sisson. The challenge is about winning converts to the lifestyle. Sisson provides a brief outline of the principles of this diet, an app, and the giveaway contest as a way to show his readers the benefits of this lifestyle. He believes that 21 days is enough time to kick bad nutritional habits and to see the benefits of living Paleo/Primal. As a result, he challenges new readers and visitor to his site to try the lifestyle for 21 days, and provides them with numerous free resources to accomplish this goal.
As Wise Choice Market owner Simon Gorman states, "We're delighted to provide people with the opportunity to try our nourishing bone broths for free. These are deeply beneficial foods, for so many reasons. It's especially pleasing to do so as part of the 21 Day Challenge, which is designed to motivate folks to transform their health by implementing the Primal lifestyle. Congratulations to Mark's Daily Apple for bringing together so many like-minded vendors to help participants succeed with the Challenge. We're proud to be a part of it!"
Whether or not you believe in the Paleo/Primal diet's claims, one thing is certain – the diet's popularity is benefiting from its exposure. Google Trends predicts a sharp uptick in the diet's popularity. In fact, despite facing a near-record low in November and December of 2014, the diet is on an upward curve. Trend charts show that despite this little bump in the road, interest in the Paleo lifestyle is likely to double by this time next year. Consumer education is, at least for the Paleo/Primal world, an effective tool.