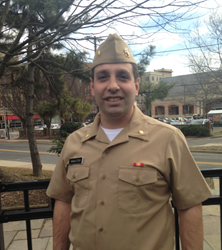 "As a Plastic Surgeon, treating our service members will be the greatest honor I can ask for in my career."
Bethesda, Maryland (PRWEB) February 18, 2015
Dr. Marwan R. Khalifeh, of Bethesda, MD, a plastic surgeon practicing in Maryland and Virginia, joined the U.S. Navy Reserve Medical Corps as plastic surgeon. He took his oath of service on January 5th, 2015.
"I was looking for a way to give back to my community," said Dr. Marwan Khalifeh, "and joining the military was always a dream of mine."
He will be serving 10-12 weekends a month as well as 2 weeks a year. Dr. Khalifeh will also be available for deployment should the Navy need him in that role, which is part of the excitement of being in the Navy Reserves.
Dr. Marwan Khalifeh was born in Beirut, Lebanon, and immigrated to the United States when he was eleven. He became a naturalized U.S. citizen in 1991. He studied at the prestigious University of Pennsylvania for his undergraduate degree, and obtained an M.D. degree from Vanderbilt University.
He then returned to his adopted state of Maryland, and finished his training at Johns Hopkins Hospital in Plastic and Reconstructive surgery. He started a successful cosmetic surgery practice, specializing in body contouring procedures.
He hopes to use the skills he has obtained over the years in bettering the lives of service members and treating any conditions that require reconstructive skills.
"I am excited that the Navy accepted me in this role," says M.R. Khalifeh, MD. " I look forward to serving as a plastic surgeon for our service members."