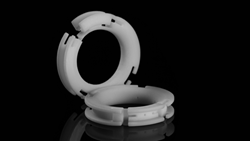 Zip Rings is an innovation, not only because it is a better way to floss," said Victor Prince, Founder of Zip Rings, Inc. "Equally important, is the amount of waste it eliminates.
Beaverton, Oregon (PRWEB) January 28, 2015
Zip Rings, Inc. today announced the debut of its new flossing accessory on the Kickstarter crowd-funding site. The patent pending Zip Rings™ is an innovation in how to grip, store and dispense ordinary dental floss. It uses a pair of rings to allow users to grip and manipulate an extended section of any type of ordinary dental floss attached to the rings by putting the rings on a finger on opposite hands. In doing so, Zip Rings eliminates common problems faced when using ordinary dental floss including the floss wasted just for gripping, the mess created when used floss comes in contact with the fingers and hands, and the difficulty manipulating the floss: especially through those difficult to reach locations. These common problems can all be traced back to how the floss is normally gripped by wrapping it around the fingers and hands.
One of the interchangeable, reusable Zip Rings is a dispenser ring, which holds a two-week supply of any type or brand of ordinary dental floss. The other is the take-up ring and is used to retract and conceal the soiled, used floss. The free end of the fresh floss on the dispenser ring is attached to the Zip Fastener™ on the take-up ring, leaving a section of fresh floss extended between the two rings. The extended section of floss can be easily manipulated by placing the rings on the middle finger of each hand and using the tips of the forefingers and thumbs to guide the floss through the teeth. When the floss becomes soiled through use, it is concealed on the take-up ring and a new fresh section is exposed by rotating both rings. The rings can also be rotated to dynamically change the length of the fresh section of floss while flossing. After flossing, the soiled, used floss is cut and removed from the take-up ring.
Eliminates Millions of Miles of Floss and Hundreds of Millions of Plastic Containers from Landfills
Over 3 million miles of dental floss and hundreds of millions of spent plastic floss containers go into landfills each year. That's enough floss to circle the earth more than 120 times. Zip Rings cuts this waste in half.
Promotional Kickstarter Pricing Available
The company has launched a Kickstarter campaign where it is offering promotional pricing of $7.00 per pair. Zip Rings will pay for itself in as few as two purchases of dental floss. To place an order, visit the Kickstarter site and select one of the reward options on the campaign page.