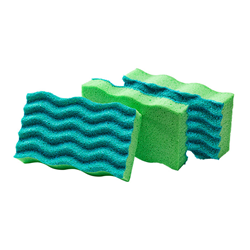 Arcola, Illinois (PRWEB) January 26, 2015
Winter finds us cooped up in our homes, schools, and offices, and such close proximity to each other is known to facilitate the spread of germs. The Centers for Disease Control instructs individuals "that cleaning and disinfecting surfaces and objects that may be contaminated with germs like the flu can help slow the spread of influenza."
The Libman Company offers an array of medium and heavy-duty cleaning products to help keep shared objects like keyboards, remote controls and doorknobs clean. Additionally, regular cleaning of indoor areas and rooms can help decrease the amount of dust and mold that are present as these can exasperate asthma and allergy symptoms for many individuals.
When it comes to cleaning, Libman can offer an efficient and cost-effective way to tackle dust and clean shared surfaces in the home, school or office.
Antibacterial Sponge (Product #01079)
This antibacterial and antimicrobial sponge fights odor causing bacteria and mold build up. It is super absorbent and absorbs three times more water than a traditional cellulose sponge. Deep grooves provide constant contact with scrubbing surface to remove all debris. Debris will not clog abrasive surface and rinses clean. Excellent for general, everyday use.
Suggested retail price: $3.99
Designer Bowl Brush & Caddy (Product #00040)
The brush's 360º fiber bristle placement helps to reach every area of your toilet bowl while the ergonomic rubber grip handle makes hard scrubbing more comfortable. The fully enclosed caddy cup prevents liquid from spilling.
Suggested retail price: $7.99
All Purpose Microfiber Cloth (Product #236)
Combine with soap or rubbing alcohol to wipe off germy shared surfaces and objects such as countertops, fridge handles, and remote controls. Use it dry to pick up dust and the allergens in it. Machine washable which makes it more economical than disposable wipes.
Suggested retail price: $3.29
The New Freedom Spray Mop (Product #4002)
Tackle dust bunnies and other indoor allergens with the Freedom Spray Mop. There's no need to purchase disposable cleaning pads. The mop comes with a scratch free, removable deep cleaning pad that is machine washable up to 50 times which reduces waste while saving you money. Choose your own cleaning solution to use in the removable and refillable tank. Tight spray pattern prevents damage to walls and cabinets Mop head swivels 360° for extra control and to reach tough spots. Excellent for wood, laminate, tile, marble, linoleum and more
Suggested retail price: $24.99
Libman products are sold online as well as at national retailers across the country including WalMart, Kroger, Home Depot, Target, Lowe's and Menards. To check out more of Libman's cleaning product offering, visit http://www.libman.com.
About The Libman Company
The Libman Company is a family-owned company that has been making quality cleaning tools since 1896. The company manufactures products from brooms and mops to more specialized tools for kitchen and bathroom cleaning and industrial uses. Libman proudly manufactures most of their products in the United States, including the company's well-known Tornado® Mop. For more information about the Libman Company, please visit http://www.libman.com.
# # #
TO REQUEST PRODUCT SAMPLES OR HIGH RES IMAGES
Please contact Stacey Vaselaney at:
(216) 905-0908 or slvaselaney(at)slvpr(dot)com