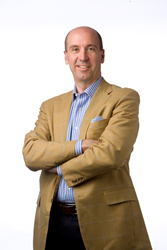 The only constant in the telecommunications business is indeed change.
Montgomery, AL (PRWEB) January 27, 2015
Telecommunications is a constantly changing business. Every day older technology is being usurped with new technology that is faster, lighter and more efficient. Indeed, the only constant in the telecommunications business is change. As a future business trends expert, Jack Uldrich speaks on those trends and how to best embrace them for the coming years. In other words, Uldrich is in the future-proofing business.
On January 27th, Uldrich will be delivering a keynote address to one of the world's leading global providers of networking and communications equipment. Their products enable voice, data, video and Internet communications across a variety of network infrastructures. Their solutions are currently in use by service providers, private enterprises, government organizations and millions of individual users worldwide.
Uldrich will focus on his concept of the Big AHA--utilizing Awareness, Humility and Action as precepts to embracing change and jumping the curve when it comes to technological innovation. Uldrich will also discuss the specific future trends that may have the most impact on the firm's leaders and it's employees.
Uldrich has spoken all over the world on the topics of future trends, emerging technologies, innovation, change management and leadership. He has provided an in-depth exploration of how the "Internet of Things," 'Big Data," social media, robotics, biotechnology, nanotechnology, artificial intelligence, renewable energy and "collaborative consumption" are changing the world we live in. Most recently, Uldrich has spent his time addressing companies like Verizon Wireless, ABB, Informatica, Signal Hill and the American Vision Council.
Uldrich says, "In the near future, the greatest change will be the accelerating rate of change itself. My job as a futurist is to help the organizations I speak with to identify concrete actions to be taken today to future-proof their businesses against "the tides of tomorrow."
Uldrich, hailed as "The Chief Unlearning Officer" by BusinessWeek Magazine, believes the principles of AHA are basic tenants for future-proofing, with humility being of particular importance. "Being humble enough to embrace the fact that we don't know what we don't know," says Uldrich, "opens us up to greater knowledge. It's a great paradox and one that all organizations can benefit from. Humble people are great to work with and they help create a terrific environment of collaboration and openness. That in turn makes for furtive ground for change and growth."
Uldrich will round out the month of January speaking in Phoenix and Florida. Parties interested in learning more about Jack Uldrich, his books, his daily blog or his speaking availability are encouraged to visit his website. Media wishing to know more about this event or to schedule an interview with Jack may contact Amy Tomczyk at (651) 343.0660.