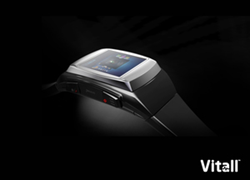 "We are extremely excited with the upcoming release of our state-of-the-art remote monitoring and telemedicine devices. Our Vitall device is unique in that it is a self-contained cellphone which in addition provides numerous health monitoring components."
Frederick, Maryland (PRWEB) January 26, 2015
Effective January 26, 2015, "CaerVision Global, Inc" (the Company) is pleased to announce it has completed the acquisition of Vitall, Inc. ("Vitall").
The transaction, unanimously approved by both Boards and a majority vote of their respective shareholders, marks a significant step forward in the Company's drive to provide technological solutions in the healthcare marketplace. The Company will be headed by Vitall's founder and CEO Jack Zhang who has lead the multi-national team in the development of a number of products, including a multifunctional Smartwatch dedicated to the burgeoning health and wellness industry. "We are extremely excited with the upcoming release of our state-of-the-art remote monitoring and telemedicine devices" stated Mr. Zhang, "our Vitall device is unique in that it is a true, self-contained cellphone which in addition provides numerous health monitoring components (blood pressure, heart rate, calories, and temperature), as well as significant event assistance such as emergency response at the touch of a button" he continued.
Jack Zhang, founder and CEO of Vitall will now assume the role of President and CEO of the CaerVision Global, Inc. In addition to numerous other business ventures, Jack has provided consulting services in the area of strategic media technology to several companies including Arbitron Inc., a $300 million media rating company. Mr. Zhang received his Master's degree in Electro-Mechanical Engineering from Villanova University and has completed MBA studies at the University of Maryland.
Effective with the close of the merger, Mr. Fred Pucillo, Jr. who served as the interim CEO and a director of the predecessor company American Mineral Group has retired.
At Mr. Zhang's request, Erwin Vahlsing, Jr. has agreed to continue for the foreseeable future in his capacity as Chief Financial Officer. Both Mr. Vahlsing and Thomas Craft, Jr. Esq. will continue with Mr. Zhang as the current members of the Board of Directors.
About Vitall, Inc.
Vitall, Inc. (the "Company") provides 24-hour personal health response monitoring services associated with its products to subscribers, primarily the elderly with medical or age-related conditions. The Company's products consist principally of a multipurpose smartwatch which serves as a speakerphone, a heart rate monitor, and has a personal help button which is worn or carried by the individual subscriber and which, when activated, initiates a telephone call to the Company's 24/7/365 emergency response call center. Further information on Vitall can be found at: http://www.vitallhealth.com
About CaerVision Global, Inc.
CaerVision Global, Inc. (OTCPK: SUGO) is focused on acquisition and development of technologies that have focused applications in the healthcare and wellness industry. Based in Frederick, MD, CaerVision Global is continuing to develop and market products which will enhance the lives of health conscious individuals, and those who face medical challenges each day. Further information is at http://www.caervisionglobal.com.
Forward Looking Statements
This press release includes forward-looking statements related to CaerVision Global, Inc. that involve risks and uncertainties, including, but not limited to, risks and uncertainties relating to integration of newly acquired businesses and assets, product delivery, product launch dates, risks relating to the Internet and telecommunications, development and protection of technology, the availability of financing or other capital to fund its plans and operations, the management of growth, market acceptance of our products, our ability to compete successfully against established competitors with greater resources, the uncertainty of future governmental regulation (particularly as it pertains to the healthcare and telecommunications), pending litigation and other risks. These forward-looking statements are made in reliance on the "Safe Harbor"' provisions of the Private Securities Litigation Reform Act of 1995. For further information about these and other factors that could affect CaerVision's future results and business plans, please see the Company's filings with the Securities and Exchange Commission, including in particular our Annual Report on Form 10-K for the year ended December 31, 2013, and our Quarterly Report on Form 10-Q for the quarter ended August 31, 2014 and our subsequent filings at http://www.sec.gov. Prospective investors are cautioned that forward-looking statements are not guarantees of performance. Actual results may differ materially and adversely from management expectations.
Contact:
CaerVision Global, Inc.
401-648-0800 ext. 350