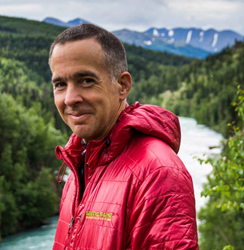 "...amazing music that represents our parks! So beautiful!" (Big Blend Magazine)
Nacogdoches, TX (PRWEB) January 26, 2015
Adventurer-composer Stephen Lias is preparing to release a CD of new instrumental music inspired by five national parks of the USA.
In anticipation of the 2016 centennial of the National Park Service, composer and Artist-in-Residence Stephen Lias will be releasing a new compact disc of diverse classical music inspired by Yosemite, Carlsbad Caverns, Big Bend, Mesa Verde and Denali National Parks. It is titled "Encounters" and the performers include international artists such as saxophonist Nathan Nabb (St. Louis Symphony) and the Chamber Orchestra Kremlin (Moscow).
Lias has served as Artist-in-Residence at Rocky Mountain, Glacier, Gates of the Arctic, Glacier Bay and Denali National Parks, and has written over a dozen park-related pieces that have been premiered in Australia, Alaska, Taiwan and across the United States. His focus on wild places and adventure activities has made him somewhat unique within the composition community, and his partnership with the park service has allowed him to reach audiences who might not normally attend classical concerts or recitals.
This compact disc project includes five of these pieces and employs a variety of chamber ensembles from one to twenty players. They include:

"Denali" (2011) – Celebratory piece for string orchestra performed by the Chamber Orchestra Kremlin (Moscow). Lias was Denali National Park's first-ever Composer-in-Residence in 2011. His visit there has led to the annual Denali Music Festival, and the "Composing in the Wilderness" field seminar offered each year by Alaska Geographic and the Fairbanks Summer Arts Festival.
"River Runner" (2009) – Trombone sonata recounting a kayaking trip in Big Bend National Park. Performed by Deb Scott and Ron Petti. Santa Elena Canyon's 'Rockslide Rapids' provide the dramatic climax of this piece.
"Hall of the White Giant" (2012) – Marimba solo inspired by spelunking trip at Carlsbad Caverns. Performed by percussionist Brad Meyer.
"Range of Light" (2014) – Saxophone sonata inspired by Ansel Adams' photographs of Yosemite National Park. Performed by Nathan Nabb (regular principal saxophonist with St. Louis and Houston Symphonies) and James Pitts.
"The Ghosts of Mesa Verde" (2013) – Flute duo inspired by Mesa Verde National Park. Performed by Christina Guenther and Jennifer Keeney.
Plans are underway to make the CD available both for download (iTunes, Amazon, etc.) as well as physical copies in national park gift shops. While most of the recording is already complete, Lias has launched a Kickstarter campaign to secure the funding required for the final phase of production. This campaign, runs through February 14, 2015, and can be found at: http://kck.st/1E6278e, or by simply searching the Kickstarter site for "National Park".
Quotes:
"...amazing music that represents our parks! So beautiful!" (Big Blend Magazine)
"He is a true advocate (and artist) of the parks! We are thrilled he is working to release a CD of his music inspired by our national parks." (Denali Education Center)
"Stephen Lias creates music that captures and translates a sense of place—both the physical qualities of a landscape and the emotional feelings evoked from experiences in wild places. His compositions are complex, rich, and inspiring." (Jean Muenchrath, Artist-in-Residence Coordinator, Rocky Mountain National Park)
The CD is projected to be released for download in the second half of 2015, with physical copies available a few months after that.
Stephen Lias lives in East Texas where he is Professor of Composition at Stephen F. Austin State University. More information about this CD, as well as his other music and activities, can be found at http://www.stephenlias.com/encounters.
###