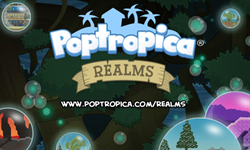 Created with input from Poptropica players, this new feature provides endless opportunities to explore and create while playing online.
BOSTON, Mass. (PRWEB) January 26, 2015
Brand-new worlds await Poptropica players with today's launch of Poptropica Realms. Limited only by the power of their imaginations, all players on the popular virtual world for kids can now create their own lands, meet strange creatures and build never-before-imagined structures.
For nearly eight years, hundreds of millions of kids have visited Poptropica to explore and solve quests. Now Poptropica Realms puts the power of creation in the hands of players, giving them tools and props with endless possibilities to build or destroy.
Poptropica Realms features seven different biomes that players can use to create amazing, different terrains for their Realms: Forest, Ice, Desert, Swamp, Lunar, Fire, and Crystal.
"In the past, Poptropica offered kids a wonderful place to connect and explore incredible online worlds. Poptropica Realms takes that experience to the next level," said Jess M. Brallier, publisher of Poptropica. "Created with input from Poptropica players, this new feature provides endless opportunities to explore and create while playing online."
Poptropica Realms is free to all players. However, Poptropica Membership gives players Member Exclusives for Realms, including access to all biomes and the ability to save up to 20 Realms. All players can also share their Realms with the Poptropica Creators for a chance to have their work recognized on the Poptropica Creators' blog.
Kids can stay up to date on news about upcoming new Islands and other exciting developments in the world of Poptropica on the official Poptropica blog. Parents can keep an eye on new Island releases and features on Poptropica by following the Poptropica Creators on youtube.com/poptropicacreators, facebook.com/OfficialPoptropica, plus.google.com/+poptropica, or at Twitter.com/poptropica.
About Poptropica (http://www.poptropica.com)
Poptropica is a virtual world in which kids explore and play in complete safety. Every month, millions of kids from around the world are entertained and informed by Poptropica's engaging quests, stories and games.
Kids create a "Poptropican" character to travel the many Islands of Poptropica and use gaming literacy to enjoy a narrative that is often rooted in factual history. Problem-solving skills are honed as kids discover and solve mysteries unique to each Island.
There are always new areas to explore in this ever-expanding world where kids can collect objects, read digital books and comics, watch movies and compete in head-to-head competition. Parents can always trust that their children are playing – and learning – in a safe online and mobile environment.
Poptropica is published by Pearson, the world's leading learning company.