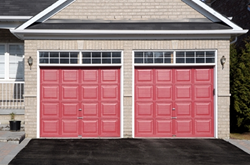 Not only does a steel entry door have the greatest return on investment, it was also one of the least expensive projects.
Chicago, IL (PRWEB) January 25, 2015
With 2015 looking to be a big year for first-time home buyers, The Federal Savings Bank, a Midwest lender knows that homeowners are also eager to add value to their house. These category of buyers often take on home improvement projects big and small. While they may debate painting their living rooms a different color or adding granite to their kitchen counters, homeowners should consider taking on projects based on the value these updates bring to the home before spending their money on a major overhaul of the property's look.
Although consumers could pay for big rehabs, small touches and exterior projects could have the best value for homeowners, according to the National Association of Realtors. NAR noted that projects that enhance a home's curb appeal could be among the best selling points once homeowners are ready to put their homes up for sale.
Returns of common home improvement projects
When owners take on home improvement projects, they should consider the return they could get for either replacing or remodeling parts of the home.
According to Remodeling Magazine, replacement projects overall had a higher return on investment, with an average of 73.7 percent compared to remodeling projects with 65.1 percent in 2014.
As a big focal place for the home, an attractive door could draw in home buyers. The NAR report issued together with Remodeling Magazine found replacing a home's old front door with a steel one could boost the project's return by 101.8 percent after resale in 2014.. Not only does a steel entry door have the greatest return on investment, it was also one of the least expensive projects.
In addition, replacing a garage door can also significantly recoup rehab costs. Garage door replacements for midrange and upscale projects had returns of 88.5 percent and 82.5 percent respectively.
From the front of the home to the back, other projects homeowners can consider include adding on a wood deck, which had a return of 80.5 percent. Building a wood deck expands the outside living space for homes and allows for entertaining other guests.
"It can be a daunting task to even decide on what home improvement projects to undertake, let alone to physically tackle and complete them," said Chris Polychron, president of NAR. "Realtors know what buyers are looking for during their search, and curb appeal is and always will be important. That explains why Realtors once again rated exterior projects as some of the most attractive and valuable for homeowners."
For more information on selling a house, contact the Federal Savings Bank, a veteran owned bank.