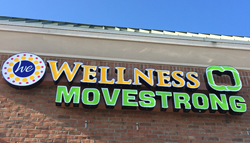 Lake Orion, MI. (PRWEB) January 25, 2015
Women's Excellence in Wellness, powered by Movestrong, is set to open on January 27 at the new location in Lake Orion. They will offer individuals fitness classes for all ages and fitness levels.
Movestrong hopes to offer a unique group fitness experience that allows individuals of all fitness levels and ages to have fun and learn something new. Movestrong's teachers will be highly trained and educated in order to work with individuals who have a complicated health history or any other concerns.
Their new facility will be at 1410 S. Lapeer Rd. Lake Orion, MI. 48360. They are located on M-24/Lapeer Rd. just south of Clarkston Rd. The facility is close to both downtown Lake Orion and I-75.
Movestrong will offer classes everyday including early mornings and late evenings. Drop in rates and class packages available as well as online registration. The first week of classes will be free, starting on Tuesday, January 27. The class schedule is as follows:

Tuesday classes will be held at 7am, 9am, 10am, Noon, 2pm, 4pm, 5:30pm and 7pm.
Wednesday - Friday classes will be at 5:30am, 8:30am, 5:30pm and 7pm.
Saturday's classes will be at 8am, 10am, Noon, 2pm and 4pm.
All classes are drop-in and free.
Women's Excellence is the most comprehensive obstetric and gynecologic office in Michigan. They also specialize in menopause, weight control, bladder control, endometriosis, robotic surgery, pelvic floor physical therapy, and midwifery services. The knowledgeable, well-trained, compassionate physicians and healthcare providers of Women's Excellence are taking new patients and are conveniently located in three locations throughout southeastern Michigan, Birmingham, Lake Orion and Clarkston. For more information, visit http://www.womensexcellence.com.