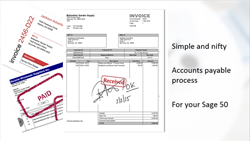 Suntico is designed to meet the needs of a small to medium sized business that needs to track what is going on without the rigid burden of a more traditional system
Dublin, Ireland (PRWEB) January 26, 2015
Small to medium sized businesses are vulnerable to gaps in the accounts payable process. These gaps can lead to fraud, overpayment, double payment, late payment, accounting errors and an unnecessary administrative burden.
It is good practice, for example, to involve separate people in the approvals of vendor orders, goods receipt verification and payment. This helps to eliminate the possibility of fraud. It can be difficult to achieve though in a small business, particularly if key people spend a lot of their time out of the office.
Putting in specialized accounts payable computer systems often does not make sense either. For a small business, these systems can be expensive relative to the volume of vendor invoices being processed and management would often simply not have the time to oversee a successful project. Training can also be a significant issue for a system that may only be used by some people occasionally.
The latest release of Suntico addresses these challenges by using a Facebook-style social interface to manage tasks and share information against a backdrop of a company's accounting data. It is easy to include more people into the accounts payable process to share and approve the relevant documents and information.
"Suntico is designed specifically to meet the needs of small to medium sized businesses that need to be able to track what is going on without the rigid burden of a more traditional system. This is ideal for accounts payable" says Hugh Johnson, SVP Business Development at Suntico.
About Suntico:
Suntico is an online account management solution aimed at companies in the manufacturing and distribution business. Unlike any other system, it links tightly to Sage 50 Accounting and other small business accounting products. It is used to help companies manage their relationships with customer and vendor accounts.