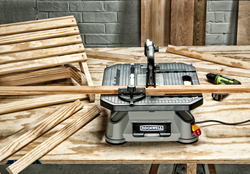 "It's a great economical saw for hobbyists and do-it-yourselfers who don't have the room or budget for a conventional table saw," said Brian Renner, Rockwell's Product Manager.
Charlotte, N.C. (PRWEB) January 27, 2015
The new Rockwell BladeRunner X2 is a benchtop saw that can cut nearly everything in its path, including wood, PVC, plastic, aluminum and other non-ferrous metals, plus ceramic tile by using standard T-shank jigsaw blades. It takes the place of a hand saw, hack saw and miter box by making quick and accurate rip, scroll, cross, inside and miter cuts.
BladeRunner X2 is great for home workshops, garage-based shops and basements. Make quick, accurate and easy miter saw cuts in wood for molding and trim, picture frames or signs. Make intricate inside cuts where precision counts. Cut ceramic tile for kitchen back splashes or insets for bathroom/shower tile work.
Winter is the ideal time of the year for project building and creating craft projects indoors. BladeRunner X2, unlike a conventional table saw, can handle a variety of projects by simply changing blades. It's also affordable, compact and weighs less than 15 lbs. The saw has a low profile of 6 ¾ in.H, which when mounted to a workbench or table top, is a comfortable working height. The saw's tabletop measures 17 in.W x 15-3/4 in.D.
"It's a great economical saw for hobbyists and do-it-yourselfers who don't have the room or budget for a conventional table saw," said Brian Renner, Rockwell's Product Manager. "Plus, there's not a big learning curve in working with BladeRunner. It sets up in seconds and is ready to go."
What distinguishes BladeRunner X2 from other benchtop saws is its blade. Instead of a saw blade, it uses standard 4 in., T-shanked jigsaw blades, which are widely available through hardware stores and home centers. Changing blades is a snap. Simply press down and slide the blade release lever on the left of the saw to seat or release the blade. Blade guide rollers ensure 90° cutting at all times.
The BladeRunner X2's control arm assembly sits at the back of the table- top to accommodate longer and wider workpieces for ripping and crosscutting. It flips out of the way when making interior cuts. The blade guard assembly also incorporates a splitter, which helps keep straight cuts on track. The saw's hold-down arm is adjustable and can be raised or lowered to match the thickness of the workpiece. It holds the workpiece against the tabletop to minimize vibration while cutting.
The BladeRunner's fence has two adjustable knobs to help align workpieces for straight and accurate cuts. The tabletop has a channel for the fence with two measurement scales, one in the in the front and the other in the rear of the saw. By using the measurement scales to align the fence to the desired cutting width, the user is assured of an accurate cut.
The innovative 3000 spm saw is powered by a 5.5-amp motor. Its cutting capacity is 1 ½ in. in wood; 1 ¼ in. in PVC; 3/8 in. in aluminum and ceramic tile, and 1/8 in. in mild steel. The blade stroke is 3/4 in.
The BladeRunner's X2 base is impact resistant and constructed for durability. It's supported by four, non-marring rubber feet. The body of the saw features dedicated miter gauge and rip fence storage.
Other features include an on/off paddle switch with safety key to prevent unauthorized use, 6 ft. power cord and a built-in handle to carry the saw. The Rockwell BladeRunner X2 is covered by the Rockwell 3-year warranty.
The Rockwell BladeRunner X2 (RK7323, $119.99) is at http://www.rockwelltools.com and through other online websites, including amazon.com and retailers, such as Lowes and Menards.
# # #
Follow Rockwell through social media links, including, Facebook: https://www.facebook.com/RockwellTools?ref=hl and Twitter: https://twitter.com/RockwellTools.