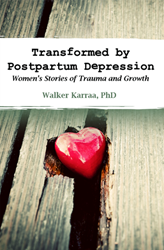 ...the paradigm of PPD has been broadened to include trauma and the human condition.
Amarillo, Texas (PRWEB) January 29, 2015
The American Psychological Association estimates that roughly 9-16% of women will experience postpartum depression. Women dealing with the physiological and emotional changes that come with motherhood, coupled with lifestyle, employment and relationship changes, etc. may have experience an emotional disturbance that surpasses that of the expected "baby blues" period. Praeclarus Press proudly announces a new book by Dr. Walker Karraa, Transformed by Postpartum Depression.
Transformed by Postpartum Depression is a poignant tale of 20 women's journeys through postpartum depression, the trauma it creates, and the growth that they experienced as a result. Shocked by the severe and sudden onset of symptoms, these women described the failure of care providers to screen for or treat depression. Battling postpartum depression, including thoughts of suicide, these women fought to do whatever it took to recover. Remarkably, they discovered that not only had they healed, but they had grown in extraordinary ways and were ultimately thankful for the personal growth experienced through the trauma of postpartum depression.
"The beauty of Dr. Karraa's book, Transformed by Postpartum Depression, is that it is written not only for clinicians, but also for women who have suffered through postpartum depression. This book will provide much needed hope for mothers in the throes of this devastating mood disorder," writes Cheryl Tatano Beck, DNSc, CNM, FAAN, Professor, School of Nursing,
University of Connecticut.
Transformed by Postpartum Depression is a deeply rich, compelling journey. These women creatively engaged and transcended their "diagnosis," truly transforming themselves, their relationships, and their lives finding self-empowerment within their personal creative journeys of healing.
Walker Karraa, Ph.D., is a provocative thought leader in the field of maternal mental health. After a traumatic childbirth and severe postpartum depression in 2000, she dedicated her career to advancing knowledge regarding mental health in mothers. She was a certified birth doula CD (DONA) for nearly a decade before returning to school to complete her doctorate in transpersonal psychology. Walker is the founder of STIGMAMA, a site dedicated to supporting women's writing about the stigma of maternal mental illness.
Praeclarus Press is a small press founded by Kathleen Kendall-Tackett, Ph.D., IBCLC, FAPA that specializes in women's health. It features books, webinars, and products that support women's health throughout their lifespan. Based in Amarillo, Texas, the mission of Praeclarus Press is to produce materials that change women's lives.