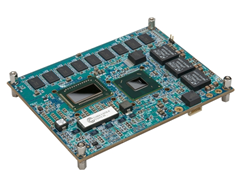 Mission Viejo, CA (PRWEB) January 26, 2015
Dynatem, a Eurotech subsidiary, is now shipping the CPU-71-16, a high performance Single Board Computer (SBC) based on the VMEbus 6U form factor with VME64 and older VME backplane compatibility. The CPU-71-16 is offered in both convection cooled and ruggedized conduction cooled versions to meet the needs of commercial and military applications requiring maximum processing power, low power consumption, and extended temperature range.
The CPU-71-16 is designed with three Gb Ethernet ports and a Rear Transition Module to provide rear I/O support. Dual core processing with the Intel® 2nd Generation Core™ i7 ULV Sandy Bridge Processor at less than 25W typical power consumption enables cool operation at extended temperature. The CPU-71-16 is offered in MIL-STD versions that support wedge locks for high shock and vibration immunity, and conduction cooling.
The main features of the CPU-71-16 are:

Intel® 2nd Generation Core i7, dual core
Intel® Cougar Point QM67 Platform Controller Hub
Extended temperature versions for -40° to +85° operation
Convection and conduction-cooled versions with conformal coating as an option
Optional wedge locks provide high shock and vibration immunity
Up to 8 GB DDR3 SDRAM
Supports on board CFast (SATA) card for bootable storage
For more information, visit http://dynatem.com/cpu-71-16/.
About Dynatem
Dynatem, founded in 1981, is a designer and manufacturer of rugged, boards level products ideally suited to harsh environments, or environments where size, weight and power consumption are critical. Product offerings include single board computers based on VME, CompactPCI, VPX and COMe standards.
Dynatem is part of the Eurotech Group, a world leader in pervasive computing with operations across North America, Europe, and Asia. For more information, visit http://www.dynatem.com