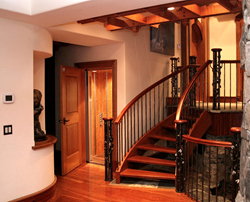 Architects and home builders were surprised that a high quality, quiet elevator could be offered at such a reasonable price.
Edmonton, Alberta (PRWEB) January 28, 2015
RAM recently started offering a new home elevator product called STRATUS™.
RAM launched this product exclusively through an extensive dealer partner network and although orders are already being filled there was a great opportunity to showcase this new product at the North America Home Builders - International Builders Show during the week of January 19, 2015.
"We received a great deal of positive feedback about the product from architects, builders, and some home owners who were looking for new or innovative products during their visit," said Graham Kawulka of RAM Manufacturing Ltd.
With literally hundreds of industry contacts requesting follow up information, quotations for their current projects, and contact information for the nearest dealer partner, this event was very positive and supports the market research RAM conducted to ensure that we developed a product that was desirable in price, performance, and quality.
Details on the STRATUS™ Home Elevator can be found in RAM's online Brochure.
Established in 1987, RAM Manufacturing Ltd. has been in business for 25 years and supplied more than 15,000 installatilons across North America. RAM is headquartered in Edmonton, Alberta, Canada and works with a multi-channel dealer network to support sales and installation services across North America.
To receive information regarding RAM Elevators and Lifts or if you think you would like to become a dealer partner in your region please contact sales(at)trustram(dot)com or call toll free 1-800-563-4382.