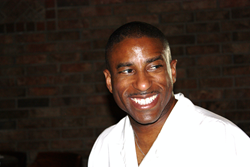 Back to the basics
(PRWEB) February 02, 2015
After spending 18 years in law enforcement in Chicago's south side and 13 years within Chicago's public school system, Ware is entering the race for Chicago's mayor as a write-in candidate.
With a thorough background in law enforcement, education, and human services, Ware brings a wealth of knowledge of Chicago government to the table.
"In order for Chicago to be great, Chicagoans need to work together with a common goal in mind making sure that our homes, schools, streets, children and families are safe," Ware says. "This will only come if we get rid of the barriers that have divided our communities for so long and get 'Back to the Basics.' Then and only then will we achieve the greatness Chicago once had."
Ware's focus when elected as mayor will be directed toward education, violence reduction, job growth, and the ability for Chicagoans to save and spend money within in their own communities. As a result communities will be able to restore their own economic base and provide a foundation for new business to grow.
Having spent most of his career in law enforcement working in Woodlawn, one of Chicago's most violent neighborhoods, Ware brings firsthand knowledge and experience of the issues revolving around Chicago's violent streets and public schools. This experience will enable him to assess the problems within the government that currently plague the city.
When elected, Ware plans to solicit the support from federal and state governments, large corporations as well as collaborate with local community-based organizations to aid with his planned programs and initiatives.
"The current administration let us down," Ware says. "I am not supported by any lobbyists, I do this from my heart. I do it for the citizens of Chicago. This is where I was born and raised."
If the citizens of Chicago are not currently satisfied by the list of candidates in the race for mayor, Christopher Ware asks for their consideration as a write-in candidate. Ware may be the person Chicagoans are looking for.
"I know I am the man for this job. There is no one out here with more experience, more ethical standards and more compassion for the citizens of Chicago. Let me be your mayor."
To hear more from Christopher Ware, please visit: https://www.youtube.com/watch?v=DthGnV-dd1M&feature=youtu.be