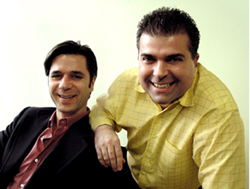 "Physical Therapy plays a vital role in rehabilitating athletes on the professional level and amateurs as well." Dr. Dimitrios Kostopoulos co-founder of Hands-On Seminars and host of many Kinesio Taping seminars
Astoria, New York (PRWEB) January 30, 2015
Athletes, especially those playing at the highest level of the sport – the Super Bowl -- are prone to injuries from the smallest strain to severe breaks, requiring surgery. Many injuries and pains can sideline the player, preventing a return to the game or even stop them from ever getting back on the field. Pain, loss of range of motion, muscle strain and weakness are well knows enemies of a successful pro athlete.
If you watch any sports, from the Olympics to the NFL you might have noticed the electric blue tape adorning the bodies of some of the athletes. This is Kinesio tape. Proper application of this treatment protocol is one of the most versatile and beneficial modalities available to a physical therapist.
Hands-On Seminars announces upcoming kinesio taping training designed to allow the instructor to cater towards specific practitioner protocols and applications such as those addressed to sports medicine and football injuries. This training will be held in Astoria, NY on July 25th and July 26th 2015.
According to physical therapy experts, Dr. Dimitrios Kostopoulos and Dr. Konstantine Rizopoulos co-founders of Hands-On Seminars this non-invasive approach to the prevention and treatment of football injuries is a much under-utilized protocol.
With Kinesio taping the physical therapist is able to prevent many sports injuries and to treat them when they do occur.
Made from cotton and high grade adhesive, this thin, elastic, cotton tape is flexible, and when strategically placed along injured muscles, its gentle tug promotes circulation, helping to relive pain and fix damage.
Kinesio tape is also used by physical therapists and trainers to help prevent ankles sprains and to support wrists, shins and fingers.
While kinesio taping has become a very visible way Physical Therapists help professional athletes, PTs influence the health and performance of players in numerous less obvious ways.
Dr. Dimitrios Kostopoulos co-founder of Hands-On Seminars and host of many Kinesio Taping seminars for Healthcare professionals explains, "Physical Therapy plays a vital role in rehabilitating athletes on the professional level. Professional athletes, and regular amateur athletes for that matter, can recover from injury and return to their lives much faster with the aid of physical therapy."
Dr. Kostopoulos' business partner and co-founder of HOS Dr. Konstantine Rizopoulos added, "When discussing Physical Therapy for NFL players in the Super Bowl you are discussing Physical Therapy and Kinesio Tape at the highest level. It is important for people to know that they are going to the right, highly trained physical therapist for their health, and it is also very important for Physical Therapists to take the initiative and continue to learn new skills in order to really help people."
Whether used to prevent harm or to help treat the stress, strain and injury that go along with a contact sport such as football, Kinesio Taping is an important tool that Hands-On Physical Therapy uses to help their patients.
Hands-On Seminars, Inc. (HOS) is the leading international continuing education organization in the world, awarded the Lecture & Seminars Award as the best Lecture and Seminar Company from the Lectures and Seminars Bureau over the past two years. Their purpose is to provide the best quality Manual Therapy seminars at an affordable cost. For further information, please contact: Alexandra Rosner at 888-767-5003 or info(at)handsonseminars(dot)com
###