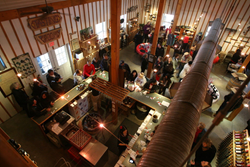 Over 40 New Jersey wineries will open their tasting rooms with special features and attractions, including dinners & entertainment, but often focusing on- you guessed it- chocolate!
Cream Ridge, NJ (PRWEB) January 26, 2015
Ask anyone for their favorite treats, and you will often find "wine" and "chocolate" at the top of the list. New Jersey wineries are celebrating both, with two weekends of the classic pairing over the first two weekends of February. The Garden State Wine Growers Association, the statewide advocacy group for the wine industry will hold the annual Wine & Chocolate Trail Weekends over Valentine's Day weekend, as well as the weekend prior for the many early bird lovebirds looking to find a special way to celebrate this year. From Sussex to Cape May and everywhere in between, over 40 New Jersey wineries will open their tasting rooms with special features and attractions, often focusing on- you guessed it- chocolate!
Some wineries will have multi-course dinners, for a novel and different option to the usual restaurant experience. Brook Hollow Winery in Columbia and Salem Oak Vineyards in Pedricktown will have Valentine's dinners at their wineries. Villa Milagro Vineyards in Milford will take it a step further by hosting a dinner dance, starting with hors d'oeuvres in the vintner's residence on the vineyard property. Four Sisters Winery in Belvidere is offering a more macabre Valentines experience with a murder mystery dinner theatre.
Other wineries will have unique features to the trail weekend, which is one of four that the GSWGA holds each year. These weekends make wine tasting in NJ a different experience than a usual winery visit. Sharrott Winery in Winslow will have a 5 course tasting menu with wine pairings (2nd weekend only), Old York Cellars in Ringoes is bringing an instant photo booth to their tasting room for both weekends, and Plagido's Winery in Hammonton will have author Charlie Toms visiting on Valentine's Day. Toms has recently published "Road to the Vineyard: Cruising Through New Jersey Wine Country." The book will be for sale and Toms will be signing copies. Plagido's will have light fare and chocolates to complement wine tastings.
Besides the special events and plenty of goodies from local chocolatiers in NJ's winery tasting rooms over the two trail weekends, the GSWGA has another special perk for in-state wine enthusiasts. A winery passport program exists, encouraging users to collect stamps at each winery in New Jersey. Once all stamps are gathered, the passport can be mailed back to the Association and redeemed for a pair of crystal engraved wine glasses. Redeemed passports are then entered into a drawing for an international wine trip. The drawing is held annually at the "Blues, BBQ, & Wine" Festival over Memorial Day Weekend; last year's winning couple traveled to Austria & Hungary. The free passports can be found in any NJ tasting room, or a mobile app version can be found by searching for "NJ Wine" on any smart phone app search.
No matter where in New Jersey you live, there is a winery in your neck of the woods! For the full list of participating wineries, costs to attend, and details of the special offerings at each location, visit http://newjerseywines.com/events.html. The GSWGA has a full calendar of special opportunities to help you plan your visit to the rapidly increasing number of wineries across the state.
The GSWGA is a coalition of nearly 50 wineries and vineyards across New Jersey, dedicated to raising the quality and awareness of the New Jersey wine industry. For more information, please contact Executive Director John Cifelli at 908-866-6529 or John@newjerseywines.com.