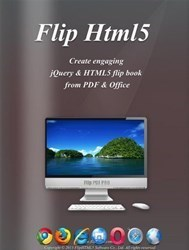 (PRWEB) January 28, 2015
The desktop version of the HTML5 flipbook creator by FlipHTML5 has introduced a gallery of themes for the enthusiastic publishers. The impressive Online Themes Feature will help them to customize their digital publications to make those more attractive.
From websites to product catalogues, brochures to digital magazines, developers and publishers have used themes to create unique and attractive products. Applying a theme is an impressive way to heighten the attractiveness of a digital publication. The theme is one of the main aspects one can use to give their digital publication a personal touch while reflecting the purpose of it. It also blends the content of all the pages together creating a natural flow between them.
Even though the FlipHTML5 desktop client has been in the forefront of the digital publication arena, its users had to create their own themes, which was a time consuming and arduous task in the past. Publishers had to spend hours browsing websites and searching for beautiful background images. Or else they had to create their own images, which was more tiresome.
The FlipHTML5 desktop client has introduced a new online themes feature through the latest update. This feature will exponentially accelerate the process of creating digital publications such as magazines, catalogs, brochures and many more. Users can apply these impressive pre-designed themes directly to their creations. All that needs to be done is to pick their favorite online themes and then apply them to their e-books instantly. Simple as that. Regardless of the topic of the magazines, the rich theme gallery will have numerous themes to suite them. Publishers who publish widely and those who want to design flipbooks with different backgrounds and themes are benefited immensely by this new addition.
The FlipHTML5 desktop client allows its users to create electronic publications with alluring backgrounds in minutes. Individuals and companies who are interested in this new Online Themes Feature and the platform can obtain more details by visiting the official website at http://fliphtml5.com.