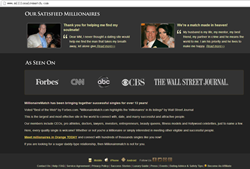 Los Angeles California (PRWEB) January 27, 2015
The largest millionaire matchmaker site MillionaireMatch.com recently analyzed the data of all verified millionaires on their body type and preference on the body type of their match. This took place on January 21, 2015 and the responses were overwhelming.
Male verified millionaires on this millionaire dating site were very confident about their own body type, with 65.65% male members choosing 'Athletic' while another 21.14% chose 'Average'. Female verified millionaires, on the other hand, only 26.8% are confident enough to claim they are an athletic body type while 26.4% think they are slim. This seems to bear out research that indicates that approximately 91% of women are unhappy with their bodies and resort to dieting to achieve their ideal body shape, no matter what their income level.
The second part of the survey by Millionaire Match was for verified millionaire members to indicate their ideal match body type. That proved interesting as well when most female millionaires preferred their match to be Athletic or with an average body type, but millionaire men preferred to find a lady who is only slim or petite. Specifically in numbers, 24.01% of male millionaires preferred a slim body type while 23.36% preferred a petite body type. The numbers of female respondents on their match's body type were higher with 30.09% who prefer their match's body type Athletic and 26.79% who preferred Average. Female millionaires did not seem to be focused on body type when choosing an ideal match.
According to DoSomething.org, 'only 5% of women naturally possess the body type often portrayed by Americans in the media'. Further research published in a 2009 article entitled 'Internet Daters' Body Type Preferences: Race–Ethnic and Gender Differences' stated that 'while both men and women are held to standards of attractiveness and body ideals, these remain much more demanding for women than for men (Bordo 1993; Urla and Swedlund 2000)'. It also noted a research study by 'Kurzban and Weeden (2007, p.626) find men significantly more likely than women to "express a desire for specific body types, typically for thinner bodies over heavier ones'.
Though the Millionaire Match survey was small and the sample only included members, it seemed to conclude what many other previous studies have shown – a gender imbalance in match body type choices on dating profiles.
About MillionaireMatch
MillionaireMatch.com has a user base of over 2 million people and is great place to meet successful singles including CEOs, entrepreneurs, doctors, lawyers, models and beauty queens. MillionaireMatch.com was voted "Best of Web" by Forbes. Whether you're a successful single or looking to meet one, MillionaireMatch.com is the place for you. It is bringing people together for over 13 years.