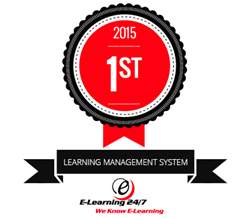 We've set a new standard of LMSs - the Learning Technologies industry is realising that boring, non-user-friendly learning solutions aren't acceptable
Windsor, UK (PRWEB UK) 26 January 2015
After an extensive reviewing process that saw over 500 different platforms undergo scrutiny, Growth Engineering's Gamified Social Learning Management System – the 'Academy LMS' – has been placed #1 in Craig Weiss's 2015 worldwide list of top Learning Management Systems.
Learning Management Systems (LMSs) are software used to deliver, monitor and report on online learning courses.
The report, released on January 25th, 2015, highlights Growth Engineering's Academy LMS's 'extraordinary' service and support, 'commitment to push the envelope' and 'monthly updates with enhancements and feature sets, rather than tweaks' that most LMSs release.
US-based Craig Weiss, who releases his 'Top LMS' lists every year, is a recognised eLearning expert and thought leader on all things online learning. He was crowned the #1 most influential person in the world for eLearning in the 'Top eLearning Movers and Shakers List' and his blog – http://www.elearninfo247.com – is read in 133 countries.
Juliette Denny, Growth Engineering's Managing Director, said: "Oh yeah! We came in at Number 2 last year, so it's fantastic to know that we're still achieving awesome things as we continue to wage war on dull online learning!
"Our goal is to shake up the eLearning landscape, so it's like a dream come true to be ranked the best LMS in the world. We've set a new standard of LMSs – the Learning Technologies industry is realising that organisations are no longer accepting boring, non-user-friendly learning solutions. We're making learning fun and making learners happy in the process!"
This ranking follows on from a very successful 2014 for Growth Engineering, in which the company was awarded the e.learning age Outstanding Learning Organisation Award and two Bronze E-Learning Awards; Best E-Learning Project, UK Private Sector in association with Bensons for Beds, and Best Learning Management System Implementation with Brakes Group.
Growth Engineering also gained four prestigious international Brandon Hall Excellence Awards in 2014:

Bronze: Best Advance in Learning Management Technology for External Training, Azlan Tech Data
Silver: Best Sales Training Program for Extended Enterprise, Azlan Tech Data
Bronze: Best in Learning Technology Implementation, Brakes Group
Bronze: Best Results of a Learning Program, Bensons for Beds
Juliette added: "2015 is going to be an incredibly exciting time for the Growth Engineering team. We're about to launch our brand new game-based authoring tool, Genie, and open up our New York office. We won't stop until the world realises that eLearning can be fun, engaging and enjoyable. We're going to war against zombie learners and we're fully armed!"
ABOUT: Growth Engineering are the arch-enemies of dull online learning. We work towards challenging every preconceived notion of eLearning to establish a new and refreshing experience for learners. We aid and inspire learning by creating innovative learning designs and using modern technologies. Our gamified Academy and game-based learning creates all-new levels of engagement and we also offer a library of Ofqual-recognised qualifications to help our learners pump rocket fuel into their professional development. In short, we want to make your learning journey as easy and rewarding as possible.
To purchase Craig Weiss's report,click here.
CONTACT: For more details, please contact: harry.cloke(at)growthengineering(dot)co.uk or phone the office on 01753 840 331.
Website address: http://www.growthengineering.co.uk