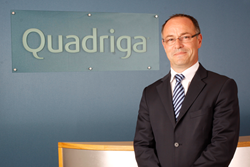 Jean-Philippe has delivered impressive financial, operational and personnel development results, while at all times embracing Quadriga's core values.
Theale, United Kingdom (PRWEB UK) 26 January 2015
Quadriga Worldwide, a leading international provider of Internet and entertainment technology managed services for the hospitality industry have announced that as of 2015 Jean-Philippe Delouis will take the role of President and Managing Director for EMEA.
Jean Philippe, who has over 20 years' of experience in the hospitality industry, has been promoted from his previous role of Area Managing Director for Western Europe to take on the overall responsibility of the EMEA region and will be supported by newly appointed Regional Directors James Cannon and Philippe Brouty.
"Jean-Philippe has delivered impressive financial, operational and personnel development results, while at all times embracing Quadriga's core values. I am delighted to recognise Jean-Philippe's contribution to the business through this promotion and I am confident that he will bring his vast knowledge and experience to all of our European and emerging territories," said Roger Taylor, CEO of Quadriga. "Ultimately this will mean that we are able to build upon the outstanding work we have already done in supporting our valued clients and ensure that we are ready for the next chapter in Quadriga's journey."
Having joined Quadriga in 1989 as regional sales manager, Jean-Philippe Delouis was subsequently appointed as operations manager for the French region in 1994. After seven years in this role, he was promoted to general manager of the French division in 2001 and then in 2002 he became CEO of Quadriga France in charge of developing the French and North African territories.
==Ends==
About Quadriga
Quadriga is a leading international provider of guest technology managed services for the hospitality industry and our commitment is to maximise a customers' on-property value and guest satisfaction
Quadriga provides customers with the flexibility and reassurance that they can obtain a complete, accessible and relevant guest technology solution that meets their business revenue, guest satisfaction and operational efficiency targets, all from a single, financially robust partner. Our value proposition is to provide technology solutions which enable customers to:

Connect with your guests – and guests with the hotel and their world
Control the guest experience and your network and TV environment
Commercialise new business and revenue opportunities
This value is delivered via a 360º integrated and managed service approach to design, build and manage a complete network and technology ecosystem focussed on the needs of hospitality and guests.
Quadriga offers a single point of contact for a range of managed services covering Networks, WiFi, Hospitality TVs, Interactive TV & Mobile platforms and Financial Services. These integrate multiple hardware and software components, proprietary to Quadriga or via 'best-in-class' partners, with an unrivalled range of multimedia content solutions and expert operational and professional services.
Quadriga has more than 30 years experience serving the hospitality sector and operates in the key strategic geographies of USA, Europe, Middle East and Africa, supporting more than 300,000 guest rooms including 100,000 with HSIA. The company has unrivalled knowledge and approaching 15 years experience in managing hotel networks, Internet provision, digital IP systems and delivering IP over coax networks.
Quadriga will continue to leverage its capabilities, its partnerships and deep knowledge of the hospitality sector to create solutions that harness the latest technologies and meet ever- evolving customer business needs and guest expectations.
Press Contact
Vicky Daniels
Group Marketing Manager
Quadriga Worldwide Ltd
Telephone - +44 (0) 118 916 7181
Email - Vicky(dot)Daniels(at)quadriga(dot)com