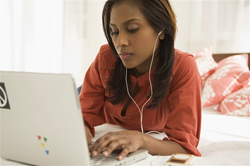 It is not just cyber bullying that happens on social networks, some children and teens can be subjected to other equally dangerous activities online.
London, UK (PRWEB) January 27, 2015
Social Networks are quickly becoming a daily fixture in teens' and children's lives. For parents who may not be as technologically literate as their children, thinking of ways for their loved ones to stay safe on social networks can be daunting and confusing. In a series of helpful guides in focus this week, NoBullying explains the tried and tested ways of protecting children on social networking sites.
Social networks may be a great way of connecting with friends, classmates or neighbors who share the same interests and passions, but with the anonymity factor and the presence of ill-meaning folks online can make social networks any parent's worst nightmare.
In this series of articles, NoBullying lists the top 10 social networking sites that minors and youth frequent as well potential dangers found on each of these social networks. The articles also show the top ways children and teens can use these networks safely.
The guides also explain some of the common dangers found on these networks such as cyberbullying, Facebook stalking, trolling as well as the correct way to use or disable geotagging photos uploaded to any social network.
Geotagging is basically a technology that allows users to link a photograph, video, website or SMS message to one or more of several types of geospatial data. This data usually consists of latitudinal/longitudinal coordinates, but also include altitude, bearing, distance, accuracy data, and even place names. Basically, Geotagging enables users to gain access to location related information of a given picture or other media. This means that when a teen posts a geotagged photo of themselves with friends at a local diner, online sexual predators for example can easily deduce where that person is and establish their patterns, making them more accessible for abduction, kidnapping or even grooming them for future exploitation.
NoBullying recommends that parents start open lines of communication with their children about the proper use and safety measures on social network sites as well as explore the potential of installing a cell phone tracker on their children's cell phones.
A GPS cell phone tracker will basically allow the parent to monitor wherever the child happens to go while the cell phone is on their person. Another viable option is installing a cell phone number tracker which will virtually only allow the parent to track the phone numbers that their child is corresponding with or an activity cell phone tracker which will allow the parent to track all of the activity that goes on with their child's phone, from pictures and apps, to texts and calls and most importantly, location.
Ciaran Connolly, Co Founder of NoBullying says, "It is not just cyber bullying that happens on social networks, some children and teens can be subjected to other equally dangerous activities online."
He added that parents and teachers should make a point to educate the younger generations about the sad outcome of neglecting online safety and photos safety. According to Connolly, it is quite imperative to press for more firm laws condemning all acts of bullying and harassment.
NoBullying.com features many pages dedicated to parents, teens, teachers, health professionals as well as posts related to cyber safety and the latest news about law making concerning curbing Bullying worldwide as well as inspirational Bullying Poems and famous Bullying Quotes.
The website regularly updates its bullying statistics and cyber bullying statistics as it is essential to understand how widespread the bullying epidemic is. It also regularly runs cyber bullying surveys and questionnaires to get recent updated statistics on everything related to cyberbullying.
He also added that anyone suffering from bullying in any form or way can always find advice and help on the NoBullying website, and if anyone is suffering from severe consequences of bullying or harassment such as depression or suicidal thoughts, the best thing is to talk to someone locally – a parent, teacher or local organization that has been set up to help with specialized councilors to deal with this topic.