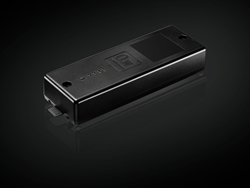 Guderup, Denmark (PRWEB) January 28, 2015
The new battery box BA001 from LINAK is the preferred choice for applications where mains are not accessible such as mobile carts, mobile office desks, display and monitor stands, etc. Where mains cables are in the way, the battery solution takes over and offers a wide range of advantages.
The BA001 is a powerful lithium Ion battery with a capacity of 2.2 Ah, which guarantees a long lifetime without having to recharge constantly. Furthermore, the powerful battery is easy to exchange in cases of replacement or charging away from the application as it comes standard with a mounting bracket.
Intuitive feedback is built into the product. Four LED bars indicate the capacity level and inform when charging is needed. An audio alarm will then sound when capacity is less than 25%. This way, you can avoid running out of power.
The battery box is compatible with standard DESKLINE® and HOMELINE® systems, meaning that LINAK can provide the whole system. This means easy logistics and compatible products, which are all tested.
The BA001 battery box is launched and available as of today.
Learn more about LINAK and the Battery Box BA001.
For further product information, please contact your local LINAK subsidiary or distributor.
Facts:
LINAK provides innovative actuation solutions that improve people's quality of life and working environment. We are globally recognised for high quality, technically advanced and innovative systems. LINAK has approx. 1,900 dedicated employees, and we are represented globally through distributors and subsidiaries. Currently, our production sites are in Denmark, the USA, China and Slovakia - and we are continuously expanding our markets.