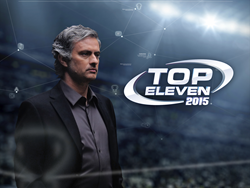 I'm excited to be involved with Top Eleven 2015 - the game that's a great example of how to perfectly blend team management, skills, and passion". Jose Mourinho, Chelsea manager
London, UK (PRWEB UK) 27 January 2015
Top Eleven, the world's most popular cross-platform online sports game, is today launching its 2015 version on iOS and Android. The game series has 100 million registered users around the world, with 10 million monthly active users.
Developed by Nordeus specifically for cross-platform support on both mobile devices and web, fronted by Chelsea manager José Mourinho, the game allows players to manage their own football club, controlling everything from their team's tactics and transfers to club finances and stadium expansion.
Users sign up via Facebook and challenge their friends or other players in leagues, friendlies and cup competitions to rise to the top of the managerial world, growing their experience and club's status. Once more, the Chelsea manager himself will give new users instructions and tutorials in the game, sharing his advice and tactical knowledge to help players grow their managerial experience and rise to the top.
Fans of the Top Eleven series will welcome the new game changes, with improvements to the user interface as well as the graphics, in-game achievements, transfer negotiations and gameplay.
Features include:

New animations, 3D environments and improved user interface mean a more immersive and realistic experience.
Match sounds now mirror the action on the pitch, giving games a gripping, real-life atmosphere.
Transfer negotiations for players are now harder.
Redesigned in-game help, trophy rooms and cleaner menu layout.
Faster team training and player selection.
Optimised version for tablet users, making use of the better graphic and 3D animations.
Jose Mourinho, Chelsea FC manager and ambassador for Top Eleven 2015, commented: "Football management is all about love and passion for football. But to become really successful, you also need to know your team, think a lot and outsmart your competitors. Nordeus' video game is no different and that's why I'm excited to be involved with Top Eleven 2015 - the game that's a great example of how to perfectly blend team management, skills, and passion".
Users can also seamlessly switch from playing a game on their smartphone to their tablet, and can continue the same game as before without losing progress - the second you stop playing on one device, you can continue on another.
The game is free to download and available on iOS and Android from today. Download for free at http://www.topeleven.com.
-ENDS-
Press Kit & Pictures:
https://www.dropbox.com/s/2p8crifjjst2fgb/TE_2015_PRESS_PACK_FINAL.zip?dl=0