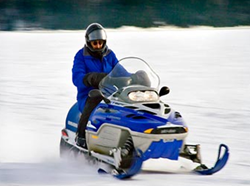 LINCOLN, R.I. (PRWEB) January 26, 2015
Snowmobiling is an exciting way to enjoy the winter weather. It often occurs on trails in remote locations, however, so it's important to follow the proper safety procedures.
According to the International Snowmobile Manufacturers Association, there are 1.4 million registered snowmobiles in the United States, and they each average more than 1,600 miles of travel per year. But accidents can happen, and that's why Amica Insurance is sharing the following tips to help snowmobilers stay safe:

Before leaving, tell someone the route you plan to take and what time you should return.
Bring an emergency kit packed with food, water, extra gloves and socks, flashlights, hand warmers and waterproof matches.
Carry a cellphone at all times. Most phones are GPS-enabled, so if in need of help, 911 operators may be able to pinpoint your location.
Moderate exercise can help fight off frostbite, but be sure not to work up a sweat, as it can freeze cotton clothing to the body.
Wear layers of clothing, including a windproof outer layer. Gloves, boots, goggles and a safety-certified fitted helmet are extremely important to staying safe and warm.
About Amica Insurance
Amica Mutual Insurance Co., the nation's oldest mutual insurer of automobiles, was founded in 1907. The company, based in Lincoln, Rhode Island, is a national writer of auto, home, marine and umbrella insurance. Life coverage is available through Amica Life Insurance Company, a wholly owned subsidiary. Amica employs more than 3,300 people in 44 offices across the country. For more information, visit Amica.com.
CONTACT: Vince Burks, Corporate Communications, 50 Amica Way, Lincoln, RI 02865-1155, 800-652-6422, ext. 24563
Twitter: Amica
Facebook: Amica Mutual Insurance Co.