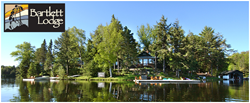 He keeps the menu at Bartlett fresh and exciting, putting his distinct stamp on classic dishes and using seasonal ingredients whenever possible.
Algonquin Park, Ontario (PRWEB) January 26, 2015
Kim and Marilyn Smith, owners of Bartlett Lodge (http://www.bartlettlodge.com), are pleased to announce that Executive Chef David Fortune Jr. has accepted the position of Food and Beverage Manager at the upscale Algonquin Park resort known as one of the top places to eat in Muskoka. In addition to taking on the responsibilities of Food and Beverage Manager for the next three years, Chef Fortune will continue on as Bartlett Lodge's Executive Chef, a position that he has held for the past two seasons. As Bartlett Lodge's Food and Beverage Manager, Chef Fortune's expanded responsibilities will include hiring, managing and training both the kitchen staff and dining room service staff.
David Fortune started his career at Bartlett Lodge working as sous chef. Recognized early on for his culinary talent, hard work and dedication to his craft, Fortune was promoted to the position of executive chef at the Algonquin Park lodge in 2013. For three years prior to his arrival at Bartlett Lodge, Fortune trained with celebrated executive chef and restaurant owner John Taylor at his two critically-acclaimed Ottawa restaurants; Taylor's Genuine Food and Wine Bar and Domus Café. Credited as the chef who brought the local food movement to Ottawa, Chef Taylor's innovative cooking style has influenced many chefs over the years. Prior to working with Taylor, Fortune worked at two other top Ottawa restaurants; Farb's Kitchen and Les Fourgeres.
Chef Fortune is the latest in a long line of award-winning chefs that have worked at Bartlett Lodge over the years, including Sarah Allen, Jakob Lutes and Marc Lepine. Lepine was executive chef at Bartlett for four years in the 1990's. During his time as Bartlett's executive chef, Lepine was instrumental in turning Bartlett Lodge into the fine-dining establishment it is today. The owner and chef of the famous Atelier Restaurant in Ottawa, in 2012, Chef Lepine was named Gold Medal Chef at Gold Metal Plates, Canada's culinary championships. Marc Lepine's still continues to influence Bartlett's kitchen to this day as Consulting Executive Chef.
Bartlett Lodge owner Kim Smith calls Chef David Fortune a talented and innovative young chef. "We are very pleased to have David on staff and are confident in his abilities to juggle his duties as executive chef with those of food and beverage manager. Ever since he arrived as sous chef, David has fit in perfectly. Bartlett Lodge has been a leader in the Ontario resort industry in implementing environmental practices at the lodge, including in our kitchens. David also feels a responsibility to protect the environment and believes, as we do, in using local ingredients whenever possible, supporting sustainable farming and only purchasing meat and fish from suppliers who ensure that the animals had been humanely treated. He keeps the menu at Bartlett fresh and exciting, putting his distinct stamp on classic dishes and using seasonal ingredients whenever possible. We are very fortunate to have him," states Smith.
Contact Information:
Marilyn & Kim Smith
Bartlett Lodge
132 Reynolds Street
Oakville ON L6J 3K7
Telephone: (905) 338-8908
Toll free: 1-866-614-5355