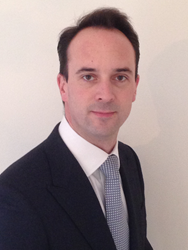 Over the last two years, James has assisted in pushing the growth of Quadriga in the UK, confirming deals with some of the leading brands in the hospitality industry
Theale, UK (PRWEB UK) 28 January 2015
Quadriga Worldwide, a leading international provider of Internet and entertainment managed services for the hospitality industry have announced that as of January 2015 James Cannon, previously in the role of the Sales Director for UK and Ireland, has been promoted to Regional Director for the UK and Ireland.
Over the last two years, James has assisted in pushing the growth of Quadriga in the UK, confirming deals with some of the leading brands in the hospitality industry such as Accor and Starwood and delivering successful sales strategies through the motivation and management of the national sales team.
"I am delighted to be accepting this appointment at a time of rapid technological innovation and change across the hospitality and healthcare markets", said James upon his promotion. "Guest and patient expectations are increasing, pressure on our clients to deliver exceptional service while driving operational efficiencies has never been stronger, and our clients are looking for 'partners' rather than suppliers."
"As a Managed Service Provider with more than 30 years' experience servicing the hospitality industry Quadriga is uniquely positioned to meet all of these demands. I look forward to working with our clients to grow their businesses and in doing so continue to grow ours."
James' experience of the hospitality industry and its clientele was vast prior to joining Quadriga, with management roles at the likes of Micros Fidelio's hotel division, where he exceeded performance against key indicators for this global PMS provider.
==Ends==
About Quadriga
Quadriga is a leading international provider of guest technology managed services for the hospitality industry and our commitment is to maximise a customers' on-property value and guest satisfaction.
Quadriga provides customers with the flexibility and reassurance that they can obtain a complete, accessible and relevant guest technology solution that meets their business revenue, guest satisfaction and operational efficiency targets, all from a single, financially robust partner. Our value proposition is to provide technology solutions which enable customers to:

Connect with your guests – and guests with the hotel and their world
Control the guest experience and your network and TV environment
Commercialise new business and revenue opportunities
This value is delivered via a 360º integrated and managed service approach to design, build and manage a complete network and technology ecosystem focussed on the needs of hospitality and guests.
Quadriga offers a single point of contact for a range of managed services covering Networks, WiFi, Hospitality TVs, Interactive TV & Mobile platforms and Financial Services. These integrate multiple hardware and software components, proprietary to Quadriga or via 'best-in-class' partners, with an unrivalled range of multimedia content solutions and expert operational and professional services.
Quadriga has more than 30 years experience serving the hospitality sector and operates in the key strategic geographies of USA, Europe, Middle East and Africa, supporting more than 300,000 guest rooms including 100,000 with HSIA. The company has unrivalled knowledge and approaching 15 years experience in managing hotel networks, Internet provision, digital IP systems and delivering IP over coax networks.
Quadriga will continue to leverage its capabilities, its partnerships and deep knowledge of the hospitality sector to create solutions that harness the latest technologies and meet ever- evolving customer business needs and guest expectations.
Press Contact
Vicky Daniels
Group Marketing Manager
Quadriga Worldwide Ltd
Telephone - +44 (0) 118 916 7181
Email - Vicky(dot)Daniels(at)quadriga(dot)com