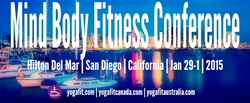 Through YogaLean, we learn to gain a sense of our bodies, no matter what our size.
Los Angeles, CA (PRWEB) January 26, 2015
YogaFit Training Systems Worldwide is excited to launch the first of many Mind Body Fitness conferences this year, beginning on January 29th in sunny San Diego. This revolutionary 4-day conference is designed for individuals interested in deepening their yoga practice and living a holistic lifestyle through mind-body awareness.
These conferences are groundbreaking in that anyone can register and attend to expand their knowledge of the ancient yoga practice.
New this year, YogaFit conferences will now integrate a 2-day YogaLean program into the schedule. Based off of Beth Shaw's latest book, YogaLean, recently released by Random House, attendees will learn first-hand how to integrate yoga, nutrition, meditation, and mindfulness for a holistic approach to healthy living.
This class is designed for anyone interested in weight loss through yoga. Losing weight is a transformational process that involves the mind, body and spirit. YogaLean is a program designed to work from the inside out, drawing from the self-inquiry of yoga philosophy to take into account every student's unique story, customizing a program that fits their lifestyle, and emphasizing the yogic practices of breathing, meditation, and mindfulness. Click here to watch a recap of this month's YogaLean Retreat.
"Through YogaLean, we learn to gain a sense of our bodies, no matter what our size," Beth Shaw explains. "We live in 'Lean Consciousness,' which teaches us how to listen to the needs of our bodies so that we feel the difference between optimal health and a life that's unhealthy. Our health is at its best when it is nurtured from a holistic standpoint, practice, belief, and intention."
The YogaFit Mind Body Fitness (MBF) Conferences are open to yoga enthusiasts of any age, as well as instructors and teacher trainees, allowing individuals to earn continuing education credits (CECs). Throughout the four days, attendees learn how to practically apply a combination of pranayama, meditation, and restorative postures with minimal propping and essential oils to create desired healing outcomes.
Visit http://www.YogaFit.com to find out more and register for a conference near you. We hope to see you in San Diego on January 29th! For inquiries, please contact jenny(at)yogafit(dot)com.
About YogaFit® Training Systems Worldwide
YogaFit® Training Systems Worldwide was established in 1994 and has since trained more than 250,000 yoga and fitness professionals worldwide. The leader in mind body fitness education, YogaFit® is the largest training school for yoga instructors in North America with further expansion ongoing internationally. YogaFit® is the American Council on Exercise's (ACE) premier and only yoga partner. Founder and President Beth Shaw is internationally recognized as the foremost authority on yoga and fitness and has been profiled in print publications and television programs including the Huffington Post, Wall Street Journal, Oprah's O Magazine, CNN, The New York Times, USA Today, Entrepreneur, SELF and is currently a New Business Group Member of the New York Times. YogaFit® is committed to community service as well as sup- porting animals and humanitarian causes.
For more information on YogaFit®, please visit http://www.YogaFit.com.
About Beth Shaw
Beth Shaw is the president and founder of the world renowned YogaFitTM training systems and the author of YogaLean. As the creator of the largest yoga school in North America, Beth has helped thousands of people get in shape and sustain a healthy weight. She and her company have been featured in O: The Oprah Magazine, Time, More, Entrepreneur, Yoga Journal, Glamour, Self, and USA Today, as well as on CNN, NBC, CBS, Showtime, and E! Entertainment Television. She divides her time between Beverly Hills, California and New York City.
For more information on Beth Shaw, visit http://www.BethShaw.com.