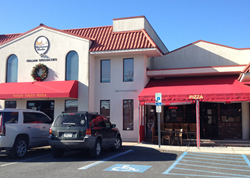 Wall Township, New Jersey (PRWEB) January 26, 2015
What once was an Italian specialty shop operating out of a small house in Wall Township, New Jersey, is now a flourishing business. Owned and operated by Biagio Schiano, Mossuto's Market & Café is a one stop shop for customers to purchase authentic Italian ingredients, wine and dine in an intimate setting, or grab a quick bite or Neapolitan pizza at the counter. With two other restaurant locations, Schiano has no plans in slowing down anytime soon.
After buying the restaurant from his retired father in 2003, Schiano continued to expand the family business. "I didn't want to see the shop that my dad built for 40 years go away so I bought it," said Schiano. "I wanted to have some sort of legacy continue on." Much of the shop's success is from their authentic, homemade menu prepared in their Italian oven. All bread is hand rolled and made from organic top-quality products. "We make everything on our own," said Schiano. "There is not much that we serve that comes out of the box."
Along with in-house dining and take-out, the restaurant also offers weekly events and entertainment. Giving customers the opportunity to sample from their collection, the eatery hosts Wine Wednesdays every week from 6:00 pm to 9:00 pm at a cost of $20. The evening includes a full buffet, samplings of five different wines, and a history lesson of each wine. "When people dine with us they are sampling our food and wine that they can purchase in our market," said Schiano. "It's a great way for me to cross promote my own business." Other entertainment includes a DJ every Wednesday and Friday night and live music on Thursday nights.
The casual, kid-friendly shop is also available for parties and full-service catering operated by Schiano's sister. "It is a very eclectic atmosphere when you get passed the fact that you're sitting in a deli," said Schiano. In an effort to stand out from other restaurants, Schiano's mission was to create an informal dining experience serving high quality dishes. "I try to stay out of the traditional pizzeria mold," said Schiano. "Why should customers have to go to a stuffy place and get dressed up to have good food?"
Another business venture Schiano is working on is the construction of his new restaurant, Benny's, slated to open in March in Belmar, New Jersey. The eatery will be in a brewery where customers can sample beer and a variety of foods from their menu. "I love this business, I love people and I keep trying to make it better," said Schiano.
Mossuto's Market & Café is open for lunch, dinner, coffee and drinks Tuesday through Saturday from 9:00 am to 10:00 pm and Sunday for brunch from 10:00 am to 3:00 pm. Happy Hour is from 4:00 pm to 6:00 pm Tuesday through Friday featuring half price martinis. To make a reservation or view their menu, visit their Facebook page https://www.facebook.com/MossutosMarket/timeline?ref=page_internal or call 732.449.8058.
About Bielat Santore & Company
Bielat Santore & Company is an established commercial real estate firm. The company's expertise lies chiefly within the restaurant and hospitality industry, specializing in the sale of
restaurants and other food and beverage real estate businesses. Since 1978, the principals of Bielat Santore & Company, Barry Bielat and Richard Santore, have sold more restaurants and similar type properties in New Jersey than any other real estate company. Furthermore, the firm has secured in excess of $500,000,000 in financing to facilitate these transactions. Visit the company's website, http://www.123bsc.com for the latest in new listings, property searches, available land, market data, financing trends, RSS feeds, press releases and more.