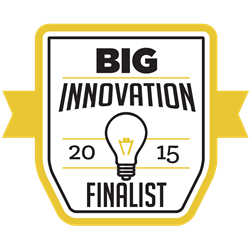 LeadiD provides a universal data standard that certifies sales lead quality, value, risk and compliance.
(PRWEB) January 28, 2015
LeadiD, the company bringing transparency and trust to the customer acquisition intelligence process, today announced that its newly enhanced platform is a Business Intelligence Group (BIG) Innovation Award Finalist. This recognition builds on the company's momentum of prestigious awards including LeadsCouncil Most Innovative Company, EdTech Digest Cool Tool Award, and Online Lending Alliance Innovator of the Year.
"We are humbled to be recognized alongside so many innovative companies that are breaking new ground," said Ross Shanken, LeadiD CEO. "Nomination for our breakthrough work is a terrific way to start the year and underscores our commitment to do big things for our customers in 2015."
LeadiD's neutral platform, delivered as software as a service (SaaS), provides a universal data standard that certifies a lead's quality, value, risk and compliance. This level of intelligence gives marketers unmatched visibility into each consumer's path to purchase. LeadiD powers marketers with actionable intelligence to improve consumer journeys while optimizing media spend. LeadiD has been embraced quickly by the customer acquisition industry because of its transformative impact on marketing performance. The LeadiD platform monitors more than 100 million consumer events each month, adding up to over a billion in the past year, across a network of more than 400 publishers. LeadiD provides real-time, actionable marketing insights, and as a result, the company sees record growth, more than doubling revenue in 2014.
The BIG Innovation Awards program recognizes top innovations from companies worldwide. It is judged through a proprietary process measured across multiple variables by judges carefully chosen by the Business Intelligence Group employees and selected advisors. A transparent scoring system is used as nominations are scored individually by each judge and insight is provided on nomination performance. All innovations recognized have shown industry impact or potential impact through concrete measurements or analysis.
About LeadiD
LeadiD is the customer acquisition intelligence platform that provides marketers with the trust and transparency to make smarter decisions and take real time action based on verified data. It is the only independent, neutral, open technology platform that allows marketers to know the certified origin, history and network intelligence of every 1st or 3rd party lead – creating a standard data currency for the lead generation ecosystem to communicate and optimize. LeadiD's comprehensive AppMarketplace offers plug and play solutions for TCPA compliance, fraud detection, data validation, scoring, and more. For information, visit LeadiD.com.
About the Business Intelligence Group
The Business Intelligence Group is the first open-source industry awards program to devote itself to the recognition of authentic talent and superior performance in the business world. Unlike other award programs, the Business Intelligence Group programs invite real business people with experience and knowledge to serve as judges. The organization's proprietary and unique scoring system selectively measures performance across multiple business domains and rewards companies whose achievements stand above those of their peers.