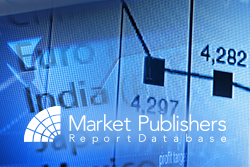 London, UK (PRWEB) January 26, 2015
Market Publishers Ltd announces that new market research reports worked out by QYResearch have been recently added to its catalogue.
2015 Market Research Report on Global Radio Taxi Station Industry. The new report delves into the world radio taxi station market, gives the market assessment by main regions and countries and unveils key facts on the industry development since 2009. It provides a detailed description of radio taxi station, reviews the latest industry trends and developments. Besides, the report includes a deep guide to the competitive landscape, enlists the leading producers and offers valuable data on their capacity, customers, products and position within the industry. The study provides information on the radio taxi station production, capacities, sales and prices; reviews the marketing channels, downstream and upstream markets. Future projections for the radio taxi station industry through 2020 are presented, too.
2015 Market Research Report on Global Shock Absorber Industry. The insightful research report provides an all-round overview of the world shock absorber industry and highlights the key industry segments. It includes detailed shock absorber classifications, describes main application areas and analyzes the industry chain structure. The report offers an in-depth examination of the shock absorber production, supply, demand and prices. Furthermore, it contains a comprehensive analysis on the major companies, including information on their products, prices, specification and capacities, comprises an extensive review of the feedstock and downstream markets; and discusses the latest development trends. An all-round industry forecast up to 2020 can be found in the report.
2015 Market Research Report on Global Sport Swear Industry. The in-demand study provides key insights into the world sport swear industry and offers details on the market performance within the 2009-2014 time period. Detailed product description along with an overview of the main applications and industry chain structure analysis are presented in the study. Moreover, the report provides a profound analysis of the competitive environment and enlists major producers. The study offers unbiased data on the sport swear demand, production, price fluctuations, imports and exports. A comprehensive future outlook for the world sport swear industry is given in the report as well.
2015 Deep Market Research Report on Global Kidswear Industry. The cutting-edge study discusses the global kidswear industry, touches upon the key industry trends and scrutinizes the latest technological developments. Besides, the research report profiles the main manufacturers, includes information on their products, output and prices. Kidswear classification and applications are thoroughly described as well. The topical report discloses the global kidswear consumption, trade, production, demand and price statistics. It offers an extensive investigation of the raw materials market and sheds light on the main end-use sectors. In addition, future prospects of the world kidswear industry are discussed.
More new research studies by the publisher can be found at QYResearch page.