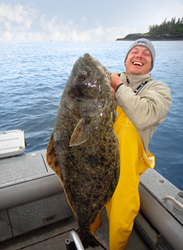 Ketchikan, Alaska (PRWEB) January 26, 2015
Waterfall Resort, the most popular fishing lodge in Alaska, is raising the bar for the 2015 season by offering a Bonus Halibut Tag program. Novice and experienced anglers alike will now have the opportunity to bring home twice the Halibut during daily-guided fishing excursions. To make this program possible, Waterfall Resort is partnering with commercial fishermen to purchase surplus Halibut quota and then offer it exclusively to guests at our cost. Wild Alaska Halibut fishing is prime during the entire summer season.
Anglers that purchase Bonus Halibut Tags are able to retain one Halibut of any size per tag, on top of the current charter fishing limit of one Halibut per person per day, the size of which must be under 44 inches or over 76 inches in total length. Guests can use one tag for each day of fishing and can share the tag with any other guest on the same boat. In addition to these bottom dwellers, the resort's expert guides help guests reel in trophy-sized catches such as King Salmon (Chinook), Silver Salmon (Coho), Yelloweye, Ling Cod and more in the pristine Alaskan wilderness.
Near Ketchikan, just a 90-minute flight from Seattle, Waterfall Resort offers an exhilarating and memorable experience in southeast Alaska. Established in 1912, Waterfall Resort was once a wild Alaskan seafood cannery that broke records for the sheer volume of salmon it caught and exported all over the world. In 1982, The Waterfall Group transformed the property into one of the finest remote sport-fishing destinations in the world. Its location on Prince of Wales Island adjacent Alaska's Inside Passage combined with its all-inclusive four-star guest service, expert guides, historic accommodations, and hearty Alaskan dining make for an unforgettable experience year after year.
For more information visit http://www.WaterfallResort.com or call 800.544.5125.
About The Waterfall Group
Leaders in adventure hospitality management on land, on the water and in the air, The Waterfall Group delivers extraordinary outdoor lifestyle experiences featuring unique and scenic destinations, marine and aviation expertise, satisfying local cuisine, easy travel and warm, friendly customer service. Founded in 1980, The Waterfall Group markets, operates and supports multiple lines of business nationally from all-inclusive Alaska sport fishing lodges to sea plane tours in the Florida Keys.