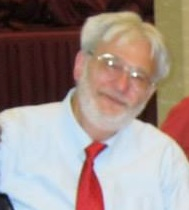 Hank has provided outstanding service to our clients, and has been well liked by our team and customers - Jim Lewis, CEO of Enhanced Retail Solutions
New York, NY (PRWEB) January 27, 2015
Enhanced Retail Solutions (ERS), a top provider of consulting and software solutions the retail industry and their suppliers for use in analyzing their products' retail sales and trends as well as improving inventory productivity announces the retirement of Hank Sienzant as Vice President of Customer Service and Technical Support.
Hank has almost 30 years of experience working with most EDI transactions from a manufacturer's perspective and has dealt with all the major retailers in that role. A former EDI manager in the video entertainment industry, he brought to ERS his result-oriented approach to customer service. Hank has been with ERS for 7 years.
Taking over for Hank in the EDI Processing Role is Alvin Das. Hank has worked closely with Alvin to ensure a seamless transition. As a developer, Alvin will look to add even more efficiencies to further scale our processing with our growing business. Hank's customer service roles have been reallocated amongst the entire ERS Support Team.
"Hank has provided outstanding service to our clients, and has been well liked by our team and customers," says Jim Lewis, CEO of Enhanced Retail Solutions, "Although I am sad to see him leave, I am happy he is taking time for himself and his family."
About Enhanced Retail Solutions LLC:
Enhanced Retail Solutions is a New York based software and consulting firm specializing in Retail Analysis and Demand Planning for the manufacturer, their retail partners and licensors. ERS' state of the art software tools and consulting deliver critical data quickly, easily and cost effectively, adding over one hundred million dollars to their clients' bottom line. ERS' broad customer base includes industry leaders in the electronics, consumer products, apparel, footwear, home textile, toy, home décor, home improvement, housewares, jewelry and food industries. For more information, visit http://www.EnhancedRetailSolutions.com.